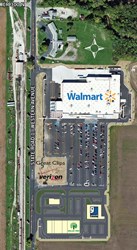 Connersville, IN (PRWEB) October 11, 2013
Dollar Tree and Goodwill Stores will anchor the much anticipated delivery of the 42,000 square foot retail shopping center serving the greater Connersville, Indiana area and will be delivered in late 2013. This new center will be adjacent to the Connersville Wal-Mart on Highway 1, which opened in 2011. This project is a joint venture between Dallas, Texas developers, The Brytar Companies has been financed by First Merchants Bank of Indiana, Indianapolis, IN.
This new retail center is situated in an easily accessible area with direct connectivity to Wal-Mart, prime visibility, and direct and separate access from State Highway 1/ Western Avenue.
Connersville Commons will consist of the free standing 12,400 square foot Goodwill Store, a restaurant pad site, and a 25,100 square foot building with National retailer Dollar Tree signed as the co-anchor.
The Connersville Wal-Mart is very pleased with the sales at this location as they believe the regional positioning along Indiana Highway #1 has increased the shopping traffic from Cambridge City, Milton and a host of other regional communities in the Fayette County trade area who are inclined to shop at the Connersville Wal-Mart and the to be built Connersville Commons.
"Connersville has been extremely receptive and has bent over backwards assisting in obtaining improved access and permits associated with the development," said Bill French, senior managing director, Cassidy Turley, Retail Services, the broker hired to market the retail center. "We are all very excited about Connersville Commons and are working diligently to bring additional new national retailers to Connersville to take advantage of this opportunity."