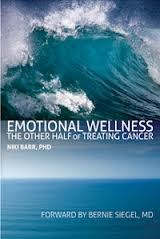 Dallas, TX (PRWEB) October 01, 2013
Pioneering psychotherapist Niki Barr offers a groundbreaking toolbox for Breast Cancer Awareness Month in her new book, "Emotional Wellness: The Other Half of Treating Cancer."
"I focus on cancer patients and their loved ones in my clinical practice and over the years, I've found a number of tools that are very effective in preventing and relieving anxiety," Barr says. "One the most consistent sources of mental anguish after a cancer diagnosis is the sense of helplessness that patients and their families feel – that the ball is in the disease's court."
"Like Breast Cancer Awareness Month, which has successfully gotten the message across that women need to be proactive about breast cancer, the 'emotional wellness toolbox' is empowering."
Breast Cancer Awareness Month is observed in October. The annual campaign aims to increase awareness of breast cancer and, more important, remind people to have a plan for detecting it in its early stages.
Dr. Barr advises patients to get a box – literally – so all of their tools are readily available when needed. They include things like a pen and index cards for emotional exercises, a notepad to express painful thoughts or jot down inspiring epiphanies, relaxation CDs and more.
"Keeping your well-being toolbox organized and filled with effective tools, you can use it on a daily basis to help propel you forward psychologically throughout the cancer journey," Dr. Barr says.
"As a caregiver for a cancer patient, I found Dr. Barr's book to be an excellent resource for both patients and their caregivers," writes Amazon reviewer B Bragg, who gave the book five stars. "It is extremely difficult to navigate the roller coaster of emotions felt from the initial cancer diagnosis through treatment. As an expert in her field, Dr. Barr shares her knowledge and experience to help others manage their emotional well-being. If you or someone you know has been diagnosed with cancer, this book will provide incredible emotional support and understanding. It is well-written and easy to read."
About Niki Barr, Ph.D.
Niki Barr, Ph.D. founded a pioneering psychotherapy practice dedicated to working with cancer patients in all stages of the disease, along with their family members, caregivers and friends. In her book, she describes an "emotional wellness toolbox" patients can put together with effective and simple strategies, ready to use at any time, for helping them move forward through cancer. Dr. Barr is a dynamic and popular speaker, sharing her insights with cancer patients and clinicians across the nation. Follow her on Twitter, @NikiBarrPhD. For more information, visit http://canceremotionalwellbeing.com.