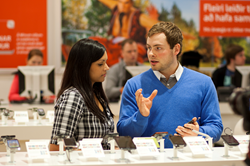 Many retailers could be more profitable with fewer software solutions.
(PRWEB) October 02, 2013
Aggressive pricing on the award winning retail software solution, LS Nav, makes it possible for small and midsize retailers to replace multiple software programs with a single solution.
Atlanta, USA, September 30th 2013. Over 2300 retail and hospitality operators across the globe have replaced multiple retail software solutions with LS Retail. LS Nav is based on the Microsoft Dynamics NAV ERP solution used by 2.000.000 users around the world. New aggressive pricing takes LS Nav into new markets.
Many retailers are still exposed to considerable risks because they use too many different IT systems. It is not unusual that retailers operate six or more different IT-systems in running their business: POS, Offline/Emergency POS, Mobile POS, Store Management, Chain Management, Accounting and Inventory Management just to mention some of the most common.
Running many IT solutions reduces profitability for retailers because of inconsistencies causing unreliable financial data. As a result, the retailer often experiences incorrect stock levels and loss of sales because of stock-outs and wrong prices. Furthermore, the management does not have full control of the business and is forced to spend time on manual work and duplicate processes instead of selling more and growing the business.
This scenario, with a complex software setup can make it difficult for the retailer to increase revenue through the use of new technology such as mobile POS, e-Commerce and loyalty systems.
'Many retailers could be more profitable with fewer software solutions,' says Magnus Norddahl, CEO of LS Retail. 'If you ask our customers what they consider the single largest benefit they experience of running LS Retail, they will answer that it is the 'all-in-one' solution, integrating their entire retail business from POS operation to accounting and inventory management."
'As of October 1st, we will be offering the 2013 version of LS Nav at very aggressive pricing. With LS Nav, retailers operating from 2-3 stores and upwards will experience the same benefits as the high-priced solutions large retailers operate.'
To learn more about the offer and LS Retail solutions for retail and hospitality, please visit http://www.lsretail.com
About LS Retail:
LS Retail is the leading provider of end-to-end solutions for the Retail and Hospitality industries based on Microsoft Dynamics technology. LS Retail is sold and supported by more than 140 certified partners in over 60 countries, which makes it possible to deploy LS Retail on a worldwide scale. This is probably the largest existing channel for a vertical Microsoft Dynamics add-on product. LS Retail has been installed by more than 2,300 companies with 45,000 stores operating over 103,000 POS terminals worldwide.
MediaContact
Eloise Freygang
eloise(at)lsretail(dot)com