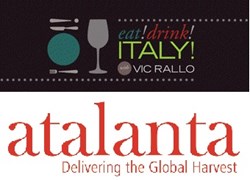 New York, NY (PRWEB) October 02, 2013
Vic Rallo Jr., host of Eat!Drink!Italy!, today announced details of a partnership with Atalanta Corporation, one of the largest importers of specialty foods in the US, to promote the best of Italian food and beverage products on his popular PBS primetime show. The sponsorship deal incorporates Atalanta's portfolio of Italy's best known and highest quality products on the nationally syndicated PBS show further strengthening the company's commitment to educating the consumer and trade on the "Made in Italy" brand.
Eat!Drink!Italy! with Vic Rallo brings the unique perspective of this noted New Jersey restaurateur and wine expert to the traditional format of a television cooking series. Rallo is the owner of two of New Jersey's top Italian restaurants, Basil T's Brewery and Italian Grill in Red Bank, and Undici Taverna Rustica in Rumson, and is recognized as an expert on authentic Italian food and wine. His television show, Eat!Drink!Italy!, has begun shooting a second season and will be available to a national audience as of October 27th on PBS' digital channel, Create.
Atalanta Corporation is the largest privately owned food importer in the U.S. specializing in cheeses, meats, groceries and seafood products from around the world. The ancient Greeks revered the goddess Atalanta for her prowess as a hunter and the speed in which she acted. The Atalanta founders took this name for the company to emulate both her swiftness and ability to provide. Today, Atalanta Corporation prides itself on providing their customers, suppliers and partners with the best possible service with speed and efficiency.
The Atalanta products to be featured as sub-sponsors in the second season of Eat!Drink!Italy! include Ferrarelle, Italy's #1 naturally sparkling mineral water, Fontana Prosciutto, the artisan prosciutto from Parma, Piave cheese, Veneto's best kept secret, Pivetti flour, milled from the finest Italian wheat and Tomarchio, the Italian soda company.
"What is really at the heart of Italian cooking is just simple and sumptuous ingredients," commented host Vic Rallo. "This partnership allows us to educate viewers about Atalanta's stellar portfolio of Italian products and bring the best of Italy's artisan products into people's homes and kitchens every week."
Tom Gellert, Vice President of Atalanta Corporation, added, "Americans have an ongoing love affair with Italian cuisine. What makes Italy so special is the regionality and diversity of products; there is always something new and exciting for customers to discover. We are confident with Vic and Eat!Drink!Italy! that we have found the perfect partner to raise awareness about these exceptional Italian artisan products."
About Eat!Drink!Italy! with Vic Rallo
Eat!Drink!Italy! with Vic Rallo, (http://www.eatdrinkitaly.org) takes television viewers on a fast-paced informative tour of Italy's limitless world of food and wine, from the Alps to the southern shores of Sicily, each week on PBS. Whether touring a cheese cave that was once one of Mussolini's bunkers, hunting for the elusive white truffle, exploring Napoleon's wine tunnels, visiting a Slow Food superstar in her humble kitchen or going 20 meters underground to the very roots of one of Italy's most celebrated wine varietals, Vic Rallo brings a unique perspective to the traditional format of a television cooking series. Eat!Drink!Italy! will be available to over 86% of national households as of October 27th on PBS digital viewing channel, Create.
About Atalanta
Founded in 1945, Atalanta Corporation (http://www.atalantacorp.com) is the largest privately held food importer in the United States. Atalanta's sales network extends to food service distributors, retailers and manufacturers. Atalanta is a global Food Importer specializing in groceries, meats, cheeses and frozen seafood. Their product range has the versatility to meet the requirements of every market, from commodity to specialty. As a member of the Gellert Global Group, Atalanta is proud to be one of the largest and most established food importers in the U.S.