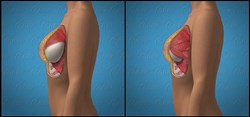 I am a more confident person now after having breast augmentation. This confidence has added value to all areas of my life.
Newport Beach, CA (PRWEB) October 01, 2013
Most OC breast augmentation surgeons place the breast implant under the muscle because of the advantages compared to placing the implant above muscle. In doing so, there is a lower rate of hardening of the breasts, less rippling, and it reduces the harsh implant look that occurs when the implant is placed just below the skin. OC breast augmentation specialist Dr. Joseph T. Cruise had always performed his breast augmentation surgeries in this same manner for much of his career; however, he still believed improvements could be made to increase patient satisfaction.
"Almost all of my breast augmentation patients desire cleavage that cannot typically be achieved with the standard way of placing implants under the muscle; therefore, I developed a way of providing patients with a variety of cleavage types, which has dramatically improved their overall satisfaction," stated Dr. Joseph Cruise.
For more information, please visit http://www.orangecountycosmeticsurgery.com.
OC breast augmentation specialist Dr. Joseph T. Cruise explains that the traditional way of placing the implant under the pectoralis major muscle only covers about half of the implant. This means that the bottom and outer area of the implant is not covered, and unfortunately, these are the most important areas to cover. As a result, Dr. Joseph Cruise has developed a technique which addresses this issue. All of his Orange County breast augmentation surgeries are now performed by using all four breast muscles to fully cover the implant. This complete muscle coverage technique virtually eliminates rippling under the arm pit area and acts like a book end by keeping the breast implant closer to the mid-line, which creates significantly better looking cleavage. Complete coverage also prevents the implant from moving laterally into the armpit over time, which is quite common with the traditional under muscle technique used.
Over the past decade, Orange County breast augmentation surgeons have come to the consensus that under the muscle implant placement has many advantages compared to over the muscle placement. Even so, there are still issues with implants being placed too far from the mid-line causing there to be little to no cleavage, noticeable rippling where the implant is not covered, and movement of the implant. OC breast augmentation specialist Dr. Joseph T. Cruise has taken this technique one step further to alleviate these issues in order to provide improved results for his breast augmentation patients.
About Cruise Plastic Surgery:
Cruise Plastic Surgery, located in Newport Beach, Orange County, California, is one of the top plastic surgery practices in the Southern California region. The director, Dr. Joseph T. Cruise, is a fully trained, board-certified plastic surgeon specializing in facelift, breast augmentation, tummy tuck and other cosmetic surgery procedures. Dr. Cruise is also one of the region's best known surgeons for rhinoplasty (nose surgery), neck lift surgery and gynecomastia. His dedication and focus is clearly evident in the comprehensive educationally based web site he manages and the concierge-like customer service his patients receive from the entire office. Experience and predictably good results have earned him the distinction of being one of the best plastic surgeons in Orange County.