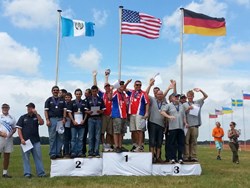 Muncie, IN (PRWEB) October 01, 2013
Several US teams and Academy of Model Aeronautics pilots have placed at this year's FAI World Championships. The following teams placed first in their respective competitions: F3D at the RC Pylon competition at the Deelen Air Force Base, the Netherlands; the F3A team at the RC Aerobatics competition at the Midvaal Raceway, South Africa; and the F1B team at the Outdoor Free Flight competition in Moncontour, France.
Twenty-four US teams compete in the FAI World Championships in a two-year cycle. These teams represent many different classes and types of model aeronautics competitions.
Complete details of the US teams' results can be found on the Academy of Model Aeronautics' blog: http://amablog.modelaircraft.org/fai.
The FAI was founded on October 14, 1905, to regulate the rules for the control and certification of world aeronautical and astronautical records. The FAI regulates air sporting events that are organized throughout the world.
The Academy of Model Aeronautics is an associate member of the National Aeronautic Association (NAA). Through NAA, AMA is recognized by the FAI, the world governing body of all aviation activity, as the only organization which may direct US participation in international aeromodeling activities.