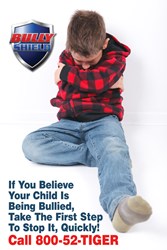 Tiger Schulmann's has solved bullying problems for tens of thousands of children since 1984. Empowering bullying victims with confidence is the most successful formula to end bullying. If you suspect your child is being bullied, you should come.
(PRWEB) October 01, 2013
Bully Shield is a two-part event which helps children understand that bullying is a process and how to overcome bullying at its early stages to prevent it from developing into habitual bullying. The event begins with a special in-class seminar, led by each school's head instructor. The class is designed to be fun, informative and interactive. Role playing between the bully and the bully's victims demonstrates to children the proper responses to bullying attempts. Tiger Schulmann's students who've overcome bullying will also be present to recite their stories, lending hope to the victims of bullying.
After the seminar participants schedule the second part of their Bully Shield program, here they receive actual martial arts training.
Since their founding in 1984, Tiger Schulmann's has helped tens of thousands of children overcome bullying in their lives. Many of these bullied children have even gone on to become instructors themselves. There are 47 Tiger Schulmann's schools located in New York, New Jersey, Connecticut, Pennsylvania, and one in Tampa, Florida.
All children, ages 7-12, are welcome to attend. There is no fee. Bully Shield is provided as a community service by Tiger Schulmann's.
"Bullying is a process which develops in stages. Tiger Schulmann has spent many years analyzing the dynamics of bullying. Together with his top instructors, a forumula was developed to overcome bullying at any stage," states Alon Feder, Director of Marketing. "The first stage of bullying is a testing phase. The bully will test another child to solicit a response. If the response happens to be fear, or an exaggerated attempt to ignore the test, the bully knows it's safe to continue the process and escalates the bullying. We teach children to understand the stages involved and what they can do to halt the process. The emphasis is upon diffusing the bullying verbally and with body language."
Another extremely important aspect of Bully Shield is to develop self-confidence in the children who attend. "If there's anything which stops bullying in its tracks, it's self-confidence," says Feder.
Bullying has finally reached deeply into public awareness. Though Tiger Schulmann's has helped children overcome bullying for 3 decades, it's in the perfect position to help even more children due to increased the increased media over the bullying epidemic our children face every day.
Tiger Schulmann's will show children who have suffered from bullies that there is something they can do immediately. Bullied children can believe in themselves and find that they don't have to put up with being bullied any longer.
For additional information, visit: http://www.tsk.com.