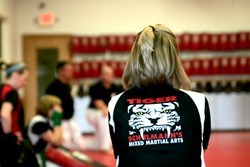 Tiger Schulmann's teaches the real techniques the professionals use. Authentic techniques are more effective, provide better fitness, and prevent students from sustaining injuries.
North Plainfield, NJ (PRWEB) October 02, 2013
One of the hottest trends in the fitness industry is, cardio kickboxing and the fat-burning trend is spreading like wildfire. Numerous publications, place the kickboxing workout at the top of their charts with over 800 calories burned per hour. Kickboxing is a full-body workout which obliterates fat and tones muscle with the added bonus of learning self defense. Kickboxing increases strength, flexibility and endurance like no other workout can.
Tiger Schulmann's North Plainfield location offers, "authentic" kickboxing and trains dozens of professional athletes who compete at the professional level throughout the U.S. and even at the UFC level. This is the same workout that the beginners learn as well.
Tiger Schulmann's Director of Marketing, Alon Feder, states, "With most kickboxing programs, you are not learning authentic techniques. You're learning moves which only approximate them. Though you achieve the aerobic side of the training, you're not getting all of the benefits. The authentic techniques are more effective, provide better fitness and prevent the injuries which can result from incorrect practice."
North Plainfield's web-only special includes a free kickboxing class complimentary pair of kickboxing gloves and a $50 savings certificate. The offer can be found on: http://www.northplainfieldmma.com/kickboxing-classes/.