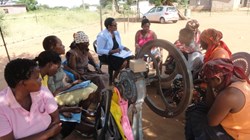 Public-private partnerships like the one between PCI and Barclays are a critical aspect of sustainable international development.
Molepolole, Botswana (PRWEB) October 02, 2013
At a ceremony in Molepolole on July 31st, the acting Managing Director of Barclays Bank, Aupa Monyatsi, presented Dorothy Tlagae, PCI Botswana Country Representative, with an agreement for over 110,000 US dollars to expand the implementation of the GROW methodology (Grass Roots building Our Wealth) into two new communities in rural Botswana, under PCI's Women Empowered initiative.
The generous grant will fund the organization and training of 32 new GROW savings groups in the communities of Molepolole and Kasane, engaging more than 600 vulnerable women for the first time. The grant builds on previous in-kind support provided by Barclays, which has contributed to the success of the program in the Molepolole and Tswapong area of the country since 2012.
"This promising expansion of WE, through the creation of GROW groups, could not be possible without the support of Barclays Bank," said PCI President and CEO George Guimaraes. "Public-private partnerships like the one between PCI and Barclays are a critical aspect of sustainable international development."
The WE Initiative is unique among programs for women's economic empowerment in that it is holistic, integrating social development activities into its core objectives. The WE program model, developed by PCI, is based on a group self-help concept that brings small groups of women together to teach them financial literacy and encourage communal savings and development. The women contribute a small percentage of their hard-earned money towards a group loan fund and then collectively decide how to invest the funds for future growth. Through rotational leadership and self-governance strategies, PCI's model places equal emphasis on the development of social capital in participating women, increasing their capacity for social engagement, decision making ability, confidence and self-efficacy.
Women Empowered promotes leadership among participating women by ensuring that fundamental group decisions are entirely directed and controlled by the women themselves, without outside management or long-term support. PCI has already built small but successful networks of WE savings groups in Ethiopia, Botswana, Guatemala, Malawi and Bolivia and has plans to extend the initiative into its programs globally to further promote women's social and economic empowerment as well as financial inclusion and independence.
To learn more about PCI's Women Empowered Initiative, please visit http://www.pciglobal.org/womenempowered/.
Celebrating its 50th anniversary in 2011, PCI (Project Concern International) is an international health, development and humanitarian assistance organization, operating in 16 countries worldwide. PCI is dedicated to saving lives and building healthy communities around the globe, benefitting over 6.7 million people annually in Asia, Africa and the Americas. Funded by federal grants and private support, PCI's current annual budget is nearly $50 million and the organization has 600 employees worldwide. PCI's headquarters are located in San Diego, CA and also has an office in Washington, DC and a Seattle, WA representative.