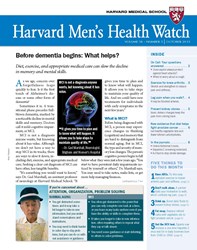 Boston, MA (PRWEB) October 10, 2013
Anyone who has ever had a kidney stone surely remembers it. The pain can be unbearable, coming in waves until the stone becomes unstuck and passes. In about half of people who have had one, kidney stones strike again within seven years—unless something is done to prevent them. There are many things the stone-prone can do to protect themselves, according to the October 2013 Harvard Men's Health Watch.
Here are the core self-help steps for preventing kidney stones, recommended by Dr. Melanie Hoenig, an assistant professor of medicine at Harvard-affiliated Beth Israel Deaconess Medical Center.
Drink plenty of water: Drinking extra water dilutes the substances in urine that lead to stones.
Get enough calcium: It's best to get as much calcium as possible from food. How much is enough changes with age.
Ease back on sodium: A high-sodium diet can trigger kidney stones.
Limit animal protein: Eating too much animal protein increases the odds of developing kidney stones.
Avoid stone-forming foods: Beets, chocolate, spinach, rhubarb, and tea can contribute to kidney stones. If you suffer from stones, your doctor may advise you to avoid these foods or to consume them in smaller amounts.
Read the full-length article: "How to prevent kidney stones"
Also in the October 2013 issue of the Harvard Men's Health Watch:

Slowing down the onset of dementia
New evidence that diet helps fight prostate cancer
Leg pain when waling may be blocked arteries
Stretch and strengthen arthritic knees to reduce pain and stiffness
The Harvard Men's Health Watch is available from Harvard Health Publications, the publishing division of Harvard Medical School, for $20 per year. Subscribe at http://www.health.harvard.edu/mens or by calling 877-649-9457 (toll-free).