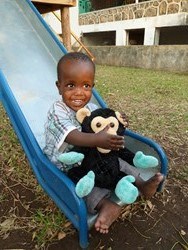 Let's change the world together, one toy at a time. - Rich Twilley | Founder
Washington, DC (PRWEB) October 01, 2013
Roughy Toys, the first One 2 One toy company, launches through crowd funding platform Indiegogo.com. Built on a foundation of giving back and helping children in need, for every toy purchased, another is given to a child in need. There are only 36 days to jumpstart changing the world for children and the traditional toy paradigm to provide more than just another toy, but a more meaningful toy for children.
Roughy Toys launches with a specially designed stuffed monkey named Alex, which is engineered to be the perfect blend of softness and durability so Alex can enjoy many years of play with many children. Dual layer construction, diamond stitching, and extra soft fur make Alex special. Alex is leading the way in the movement to teach our children the power of giving to change the world.
Roughy Toys has partnered with the Toy Industry Foundation to donate amongst a network of over 1,000 charities worldwide. The first donation of one of the final samples has already been given to Open Arms Infant Home in Malawi, Africa.
"We were thrilled when Roughy Toys approached the Toy Industry Foundation," says Jean Butler, TIF Executive Director. "We are always in need of toy donations beyond the holiday season. Roughy Toys has giving at its core and we are excited that they will make donations year-round to help bring joy to many children through play."
The building blocks of learning start very early and begin with play. Playing with toys stimulates cognitive development and leads to greater success in education and in life. Creativity, imagination, fine motor skills, friendship, and much more all come from playing with toys. Their mission is to provide comfort and play through toys that thrive in the world's roughest and toughest conditions.
"After returning home from visiting children in the slums of Sao Paulo, Brazil and playing with my son, I knew there was a tremendous opportunity to help bring comfort and play to children in need through toys and provide a more meaningful toy to our children," said Rich Twilley, Founder & Chief Donation Officer of Roughy Toys.
To help children learn about the power of giving, Roughy Toys has published Adventures of Alex, which is free to download through iBooks on the iPad and $0.99 through Amazon. Children go on an adventure with Alex around the world in a magical balloon sharing the joy and comfort of play.
To learn more about the Roughy Toys story and the launch campaign, visit http://igg.me/at/roughytoys/x/4637234 or contact us at info(at)roughytoys(dot)com.
Campaign ends November 5th.