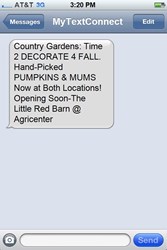 Memphis, Tennessee (PRWEB) October 02, 2013
Country Gardens, a nursery and gift shop in Memphis, Tenn., has had the honor of boasting one of the Top Performing Broadcasts in the SMS Masterminds national network of merchants in the last 60 days.
The nursery utilized local mobile and loyalty marketing expert and SMS Masterminds licensee MyTextConnect.com's Loyalty Rewards Kiosk to send a text message, or "broadcast," to their customer database on Sept. 25. The message sent to the 478 mobile subscribers opted-in at the time of the broadcast read, "Country Gardens: Time 2 DECORATE 4 FALL. Hand-Picked PUMPKINS & MUMS Now at Both Locations! Opening Soon- The Little Red Barn @ Agricenter."
The broadcast resulted in a drastic increase in normal business for Country Gardens. In the 24 hours following the broadcast, the nursery received a 1359 percent increase in daily traffic. With a normal daily average of seven Loyalty Rewards Kiosk check-ins per day, the broadcast brought in a total of 94 check-ins — roughly translating to 87 extra customers coming into the store during that period, making the broadcast's effectiveness rate 14 percent.
David Thornton, owner of MyTextConnect.com, has been working with the nursery since June 24. An affiliate of SMS Masterminds, a national mobile and loyalty marketing agency which licenses its technology and software to entrepreneurs around the country, Thornton currently manages multiple merchants in the Greater Memphis area, offering SMS deals to loyal consumers and seeing strong redemption rates.
Other top performing broadcasts for the past 60 days included Elke's Market Café working with Mastermind LoyalInsider.com in Allen, Texas, which sent a broadcast on Sept. 16 with an effectiveness rate of 149 percent; and Juicer Heroes working with Mastermind CheckInRewardsClub.com in San Pedro, Texas, which sent a broadcast on Aug. 31 with an effectiveness rate of 48 percent.
For more information about SMS Masterminds services or accomplishments, please visit http://www.SMSMasterminds.com, email info(at)smsmasterminds(dot)com or call us at 877-541-8398. To see a testimonial video from Country Gardens' employee Eleanor Wilbanks, please visit http://smsmasterminds.bloomfire.com/posts/657701.
###
About SMS Masterminds:
SMS Masterminds is a technology company founded in 2009 by serial entrepreneur Alex Minicucci that is changing the way mobile marketing services are used by small and medium sized businesses. This new integrated, data-driven approach combines the core functions of SMS/text messaging, mobile web and email helping businesses create stronger relationships with their customers through the use of proprietary social and mobile marketing tools.