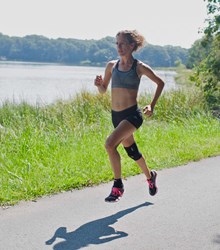 "Over the years I have had overcome injuries, and with Zamst premium line of products it will now make this recovery period easier and faster," said Hastings
Newport Beach, CA (PRWEB) October 02, 2013
ZAMST, a leader in high-performance sports protective equipment, announced today an endorsement deal with elite long distance runner Amy Hastings. Hastings, a current member of the US Track & Field, most recently competed in the 10,000 meters at World Championships in Moscow.
"Amy has proven herself to be one of the worlds best long distance runners, and we are excited to have her join our team of elite athletes," said Bryan Smeltzer, GM, Zamst US. "ZAMST sports bracing and supports products provides a superior level of protection and injury prevention for runners, and sponsoring elite athletes such as Amy ensures we are supporting their needs and creating products that allows our athletes to break through barriers and excel at their passion for running."
Hastings was most recently part of the US team to participate in World Championships in Moscow in 2013, where she finished 14th in the 10,000 meters. In 2012, Hastings participated in Olympics, taking 11th in 10,000 meters. Also, in 2012, Hasting participated in her first marathon where she recorded a time of 2:27:03 in the LA Marathon, making her the 8th fastest American of all time. The former 10 time NCAA All American from ASU will continue to focus on her 10,000 meter discipline, but will also put additional focus on lowering her stellar LA Marathon mark at the New York Marathon this year.
"I am proud to be a member of the Zamst Elite Team, and excited to showcase their products. Over the years I have had overcome injuries, and with Zamst premium line of products it will now make this recovery period easier and faster," said Hastings, a current member of the US Track & Field team. "ZAMST's creates products that solve injuries runner face very day, and allows them to get back on the road or track sooner. The unique combination of functional performance with injury prevention and protection, ensures runners are able to extend beyond their barriers."
ZAMST is a leading brand of sports support and protective equipment, used by professionals worldwide for over 20 years. ZAMST offers a full line of premium injury prevention and protection sports bracing and supports products. ZAMST is a division of the NIPPON SIGMAX Co., Ltd (Tokyo, JAPAN) with privately-held, wholly owned subsidiary corporations, SIGMAX AMERICA (Newport Beach, CALIFORNIA), SIGMAX EUROPE (Annecy, FRANCE), and SIGMAX CHINA (Shanghai, PRC). For more information, call toll free 877-ZAMST-US (877-926-7887) or visit http://www.zamst.us