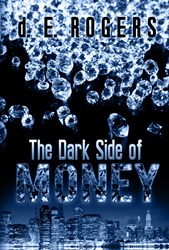 San Francisco, CA (PRWEB) October 01, 2013
On December 6, 2013, REGI Books will release "The Dark Side of Money," a rousing new novel by author d. E. Rogers that examines the complicated dynamics in a family full of strong personalities, set against the backdrop of the cut-throat New York fashion industry.
As the perfectly-manicured matriarch of an African-American fashion empire, Gloria Dean is the kind of woman who wants it her way or no way. Maybe that's why someone attempted to suppress the self-made billionaire the hard way: through murder. Can her prodigal eldest daughter Jasmine restore order to her kingdom, or will she be another liability in a chilling game of death by fashion? Find out in "The Dark Side of Money," the stylish, searing thriller that reveals the seamy underbelly of the New York fashion world beneath the glittering veneer of the bright lights and big city style.
Both held together and divided by the imperious Gloria, her renowned company has become the emblem of high fashion and even higher profits. However, when a sudden attempt on her life lands her in a coma, the family business perilously hangs in the balance along with her life. Enter Jasmine, the black sheep of the family, who is unexpectedly placed in control in her mother's absence. It's not long before the polished claws are out to dethrone her—and fast.
A wild ride that will keep readers teetering on the edge of their stiletto heels, "The Dark Side of Money," is a must-read for anyone who likes their drama served up with plenty of plot twists and fabulous style. The novel was a runner-up in the 2013 New York Book Festival and an honorable mention selection in the 2013 Paris Book Festival.
To view "The Dark Side of Money" trailer, please visit http://www.youtube.com/watch?v=098ybhvVLXw&feature=youtu.be.
d. E. Rogers is the author of seven previous novels (White Lie, Color Line, Just Like Your Daddy, I Know She Didn't, Counterfeit Friends, Crossing Color Lines, and Forgetting U Existed) and director of three short films. He holds a bachelor's degree in telecommunications management and production from Purdue University and a master's degree in business administration from Bethel College. Born and raised in South Bend, Indiana, he currently lives in the San Francisco Bay Area. More information on d. E. Rogers and his work can be found at http://www.thedarksideofmoney.com.
###