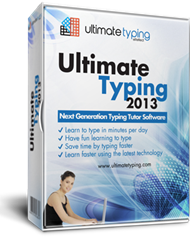 Ultimate Typing is specifically designed for memory muscle training that allow users to learn to touch type without looking at the keyboard.
New York City, NY (PRWEB) October 04, 2013
Ultimate Typing, an expert tutor typing program developed by eReflect, integrates cutting-edge technology into user-focused learning modules that allow users to hone their typing skills by practicing for only seven minutes a day. In their latest announcement today, the eReflect team elaborated on this statement, explaining that Ultimate Typing is specifically designed for memory muscle training that allow users to learn to touch type without looking at the keyboard.
Ultimate Typing is typing software that has been specifically designed to teach touch typing through integrated video tutorials, drills and exercises, and fun and engaging games. The team highlighted that the users do not need to expend considerable time and effort in honing their touch typing skills and can learn to touch type like a pro within a matter of two week with only daily 7 minutes of training required. With over six months of real-time user feedback and survey results to draw on, the eReflect developers have confirmation that this amount of time is indeed sufficient to improve typing skills, as today's statement reveals.
The eReflect team stressed that the distinctive features offered by the software allow users to gain expertise in a range of touch typing skills. These features include explicit guidelines, integrated video tutorials, and a wide variety of exercises. Furthermore, Ultimate Typing offers a monitoring program through which an individual's progress is tracked, after which customizable exercises are developed to cater to that user's specific needs. Ultimate Typing offers Adaptive Learning and Easy Learn technology, both of which are responsible for ensuring that learning to type requires minimal time and effort. In the customer feedback, this personalized approach received high praise, and was credited for the fast improvement experienced by most users.
Through its comprehensive training program, eReflect allows users to learn typing skills at their own pace, while being supported and challenged by the system. Each level within the software provides specific knowledge that can allow users to gain competency in all aspects of touch typing. As the eReflect team highlighted in today's announcement, their user studies indicate that even typists who currently type at above average speeds are likely to be able to benefit from the tips and techniques offered during the learning process. Muscle memory, a key to expert typing skills, is significantly enhanced throughout the training program. eReflect offers a money back guarantee to users that are unable to achieve the desired results within two weeks, whether they are beginners or advanced users.
For more details on Ultimate Typing™, please visit: http://www.ultimatetyping.com/.
About Ultimate Typing™
Ultimate Typing™ software is designed specifically for the improvement of typing skills. Created by eReflect, a world leader in e-learning and self-development software, Ultimate Typing™ has been informed by the latest developments in the science of touch typing.
Since its creation in 2006 by Marc Slater, the company has already catered to over 112 countries all over the world, offering products with the latest cutting-edge technology, some of which are among the world's most recognized and awarded in the industry.