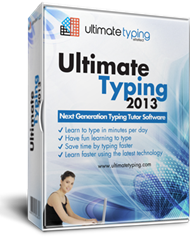 ...being computer savvy can allow an individual to gain a competitive advantage when applying for jobs that entail typing for long hours.
New York City, NY (PRWEB) October 06, 2013
Typing tutor program Ultimate Typing allows even beginning typists to type with speed and accuracy, and honing this skill will enable users to be recognized as technologically savvy, stated the eReflect team in their latest announcement today. Drawing on the results of customer surveys, user reviews, and extensive testing, the team has now published confirmation that Ultimate Typing software allows users to master typing skills by merely practicing for seven minutes a day for a period of two week.
In their latest statement, the development team at eReflect emphasized the unique features of Ultimate Typing, including the advanced technology behind the Adaptive Technology and Easy Learn functions, that allow such fast progress. The team stated that according to their surveys, the cutting edge technology allows users to both become familiar with ergonomics and enhance their typing speed with relative ease. Even typists with above-average typing speed are unlikely to be familiar with the complete set of technical know-how, tips, and tricks associated with top-notch touch typing, and Ultimate Typing allows users to understand all of the techniques that result in higher speed and accuracy of typing. According to the recently-published comments and survey results, users who thought they had good typing skills were surprised to find that they continued to learn and improve using this software.
Furthermore, Ultimate Typing offers its users explicit guidelines regarding wrist and hand position along with video tutorials that guide users throughout the training program. By providing ergonomic help, typists will avoid the stress and motion injuries often associated with long hours at the computer. The eReflect team highlighted that both the theoretical and the practical knowledge imparted during the training can allow users to become more computer literate and up-to-date, by helping them fully use their keyboards to the maximum extent possible.
In today's briefing, the team outlined various benefits that are associated with the use of Ultimate Typing and particularly stressed that according to the feedback from customers and reviewers, the typing knowledge gained through Ultimate Typing helps users to be recognized as being "computer savvy" amongst their peers and colleagues. Furthermore, being computer savvy can allow an individual to gain a competitive advantage when applying for jobs that entail typing for long hours.
Learning typing is made relatively easy with the help of Ultimate Typing, a system that allows users to gain complete insight into the technical know-how associated with typing like a pro. Furthermore, as the survey results confirm, individuals are likely to feel motivated as the software will allow them to become masters of the technology that they are using.
For more details on Ultimate Typing™ please visit http://www.ultimatetyping.com/.
About Ultimate Typing™
Ultimate Typing™ software is designed specifically for the improvement of typing skills. Created by eReflect, a world leader in e-learning and self-development software, Ultimate Typing™ has been informed by the latest developments in the science of touch typing.
Since its creation in 2006 by Marc Slater, the company has already catered to over 112 countries all over the world, offering products with the latest cutting-edge technology, some of which are among the world's most recognized and awarded in the industry.