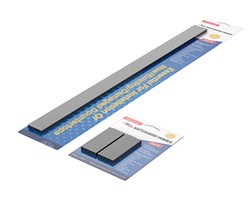 "It's easier than ever to ensure proper installation of every dishwasher."
Nashville TN (PRWEB) October 09, 2013
The dishwasher industry is cleaning up, as Safeguard Homes announces the launch of two brand new products to the marketplace. With its release of the DWStrip and DWClasp, Safeguard Homes aims to improve the ease and safety behind proper dishwasher installation.
Until now there were only make shift or temporary solutions when it came to proper dishwasher installation. With Safeguard Homes innovative DWStrip and DWClasp, it's easier than ever to ensure proper installation of every dishwasher. Engineered with 3M technology, the DWStrip and DWClasp are revolutionary devices that are compatible with any make or model dishwasher and can be used on new, existing, or even damaged countertops.
The DWStrip offers a single, longer fastener as an alternative style. 3M technology makes the DWStrip the perfect device for proper installation of any dishwasher without ruining a countertop with screws or other anchor types. Similarly, the DWClasp is designed to solve that problem by giving every dishwasher an easy-to-install mount that can be used with new, existing, or even damaged countertop surfaces. Modern countertops are often composed of materials that are not compatible with (and can even be ruined) by screws and other anchor types, so the DWClasp is the perfect alternative.
Safeguard Homes is an innovative supplier of appliance and dishwasher solutions. Founded by father and son, the idea for Safeguard Homes materialized during the Haarlander family Thanksgiving dinner. As dishes were being put away, an accidental collision against the washer door resulted in the unit breaking away from the kitchen granite counter top. Dismayed that no local hardware stores had a solution, Michael and Tom Haarlander set out to find a solution, and Safeguard Homes was born.
To learn more about Michael and Tom Haalander and their work with Safeguard Homes, visit their official website today.