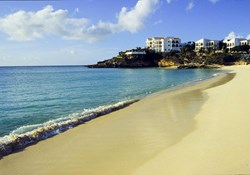 'The Malliouhana is beloved by two generations of guests, so we are doing some storytelling through the design to bring back that energy for the next generation of discerning travelers,' said Lenahan.
Mill Valley, California (PRWEB) October 01, 2013
Auberge Resorts, leading developers and operators of exceptional hotels and resorts, today announced plans for its redesign of Malliouhana, an Auberge Resort on the Island of Anguilla, British West Indies. The 55-room hotel, perched atop a panoramic bluff overlooking Meads Bay and Turtle Bay, will undergo a comprehensive revitalization, which is scheduled to be completed in the spring of 2014.
Auberge Resorts has selected interior designer Todd-Avery Lenahan of TAL Studio to lead the redesign of all guest rooms, restaurants and public spaces. Lenahan masterminded the recent top-to-bottom transformation of Hotel Jerome, an Auberge Resort in Aspen, which was completed in December 2012. SB Architects, which counts the recent transformation of Dorado Beach in Puerto Rico among its many award-winning projects, will spearhead the architectural enhancements at the now 30-year-old Malliouhana.
"TAL Studio and SB Architects were the clear choices for the Malliouhana's transformation," said Mark Harmon, CEO, Auberge Resorts. "Both firms have an incredible body of work that speaks to their talent at bringing the spirit of a destination to life. We're excited about their creative vision for the Malliouhana, whose legacy of gracious hospitality is in a league of its own in the Caribbean."
Interior designer Todd-Avery Lenahan cites the photography of Slim Aarons, a chronicler of the rich and celebrated, as a source of inspiration for his re-envisioning of the Malliouhana. His plans call for maximizing the resort's open-air design to create a relaxed atmosphere infused with exuberant colors, evoking the spirit of Anguilla during the Caribbean's glamorous heyday of the 1950s and 1960s. His team is resurrecting historic elements of the origins of the island to infuse the design concept with a uniquely Anguillan feel.
"The Malliouhana is beloved by two generations of guests, so we are doing some storytelling through the design to bring back that energy for the next generation of discerning travelers," said Lenahan. "We dialed in the spirit of how people in the '50s and '60s traveled – yachts, fine linens, exotic wonderment – and translated that notion into a very collected and international feel."
Original paintings of animated tropical scenes that have withstood the test of time in the hotel's lobby captured the interest of Lenahan and his team. Commissioned for the original Malliouhana, the pieces were rediscovered by the designers, who traced their provenance to a noted local artist and are now weaving the images into to the current design theme of each guest room.
Etched into each guestroom's polished white floors are three interlocking porpoises, a nod to the symbol on the national flag of Anguilla. Lenahan celebrated the island's love of exuberant colors as a basis for the guestrooms, which are an encapsulation of an artistic spectrum. Leading galleries on the West Coast were sources for key pieces, which will complement the resort's collection of restored vintage rattan.
"We infused spaces with a rich palette – it's an urbane take of what the Caribbean is," said Lenahan. "We wanted to create something specific to this island – not just another swanky beach hotel, but something with depth and beauty that is unique to the destination."
SB Architects' structural enhancements to the Malliouhana will visually strengthen the hotel's connection to the sea by opening up views, replacing formerly limiting architectural forms with new ones and creating engaging new public spaces. These will include a new open-air restaurant and bar, a tiered swimming pool area with a strong connection to the topography, and a sunset bar. The architects are also designing an entirely new spa that will offer an intimate experience that will be consistent with Auberge's reputation for innovative and exquisite small spa environments.
The hotel's signature white buildings, tile roofs, and slender Moorish arches will be incorporated into the new vision. "We're being respectful of the hotel's history by not doing too much. We will remove certain architectural elements that formerly stood between guests and the hotel's spectacular views of the Caribbean Sea," said Scott Lee, President and Principal, SB Architects. "Now, there will be a more pure connection to the water. We are also enhancing the arrival experience by circulating guests though mature landscape. The connection to land and sea will begin from the moment of arrival."
The Malliouhana is set on 20 acres of prime beachfront land that includes two private white-sand beaches. Accommodations range from spacious guest rooms, the smallest of which offers more than 700 square feet of space, to private beachfront villas. Resort amenities will include two restaurants and bars, an Auberge Spa and an extensive array of sports and fitness facilities.
About Auberge Resorts
Auberge Resorts is a collection of exceptional hotels, resorts and private clubs, each with a unique personality that assures a memorable guest experience. While Auberge Resorts nurtures the individuality of each establishment, all are characterized by a set of communal elements: intimate, understated elegance; captivating locations that inspire exceptional cuisine and spa experiences; and gracious yet unobtrusive service. Among the Auberge collection of distinctive properties are: Auberge du Soleil, Napa Valley, Calif.; Calistoga Ranch, Napa Valley, Calif.; Solage Calistoga, Napa Valley, Calif; Esperanza, Cabo San Lucas, Mexico; The Inn at Palmetto Bluff, Bluffton, S.C.; Hotel Jerome, Aspen, Colo.; the Malliouhana Hotel & Spa, Anguilla; and The Auberge Residences at Element 52, Telluride, Colo., and Pronghorn Resort, Bend, Ore., with several others currently in development. For more information about Auberge Resorts, please visit http://www.aubergeresorts.com/. Follow Auberge Resorts on Facebook at facebook.com/AubergeResorts and on Twitter at @AubergeResorts.