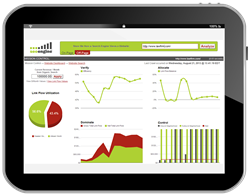 The underlying search engine algorithms were "curve fit" to the algorithms common to all the major search engines, creating a Google "simulator" of sorts.
Sunnyvale, CA (PRWEB) October 01, 2013
With the removal of organic keyword search data from Google Analytics last week, as reported by Search Engine Land, brands and online marketers have been left in the dark, once again wondering if SEO is finally dead.
In recent years, marketing professionals and their brands have been shutout of Google's organic search ranking process. The data and metrics that they once relied on has finally dried up, as Google(TM) continues to drive more brands away from the organic side of its search results and over to pay-per-click (PPC) advertisements. Marketers are now left searching for a solution, but seemingly have no options, as they are dependent on the search giant to provide insight and data about how their brand ranks.
The SEO Engine, a rapidly growing self-funded startup out of Sunnyvale, CA, claims to have a solution. Its technology is built on a real working search engine, originally developed back in 2007 as an attempt to learn why the founders' own SEO efforts were successful or not. To-date, it has crawled billions of webpages and trillions of links. On top of its search engine, the SEO Engine(R) has developed and patented an interface that enables users to A/B test their changes quickly and efficiently, visually seeing how their changes would affect their rankings on a search engine like Google. The underlying search engine algorithms were "curve fit" to the algorithms common to all the major search engines, creating a Google "simulator" of sorts.
Is this the Holy Grail for SEO?
Today, the SEO Engine is more than just a search engine simulator. In July 2013, the SEO Engine concluded their BETA release with over 60,000 users participating, including agencies and brands such as Home Depot, Dell, McAfee, YP.com, Apartments.com, Farmers, Full Tilt Poker, and Omnicare. In March 2013, the SEO Engine team began to focus solely on delivering never-before-seen metrics to CMOs with a robust enterprise-grade offering, including a "mission control" screen that allows executives to track their organic optimization efforts on a daily basis.
Maura Stouffer, Co-Founder and CEO, said: "For CMOs, our technology represents the ability to budget, allocate, and track ROI on SEO expenditures – giving them back control over their placement in the organic search results, a solution which is more than two times more effective at converting customers than PPC."
The SEO Engine is currently the only platform that predicts what Google will do before it arrives at a brand's website. For larger brands, this means testing cycles have been cut from months to literally minutes, saving hundreds of thousands of dollars in labor costs. In addition, the SEO Engine can translate exactly how much money needs to be spent to go from say, ranking #5 to #1 for any given keyword search term – something unheard of in today's industry. This is a huge advantage for the CMO and is turning the tide against Google's push for more PPC revenue.
"Obviously we are a technology that inherently eats away at Google's PPC revenue as we grow," says Scott Stouffer, Co-Founder and CTO of the rapidly growing startup. "In essence, we are the first search engine that has a profitable business model prior to market share." Indeed the SEO Engine is not dependent on traditional PPC revenues that have put many search engine startups out of business.
To learn more about the search data and metrics available from the SEO Engine's new enterprise offering, visit http://www.SEOEngine.com.
Google is a registered trademark of Google Inc.