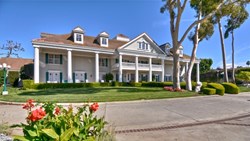 Newport Beach, CA (PRWEB) October 02, 2013
On September 20th, the Village Crean compound located on the back bay in Newport Beach, sold at auction by Irvine-based Tranzon Asset Strategies for $10,600,000. The 3.6 acre property was built in 1990 by philanthropists John and Donna Crean. John Crean founded Fleetwood Enterprises, which at one time was a $3 billion company and the world's largest manufacturer of RV's and mobile homes. Crean passed away in 2007, and Donna Crean lived on the property until her death in 2012. The family trust made the decision to sell the property at auction following unsuccessful attempts to sell through conventional means.
The gated property is well known to many in Orange County who attended various charity events and parties at Village Crean over the years. The Creans designed the property to host events and family gatherings, and loaned it out over the years to many charitable organizations.
The 15,000sf main house boasts a dining room that seats 32 people, a complete chef's kitchen perfect for entertaining large groups, 10 guest suites, a movie theater with snack bar, billiards/game room, wood-paneled library, ice cream parlor and an elevator with access from all 3 floors. There is also a 2,500sf apartment in the main house in which Mr. and Mrs. Crean resided. Other structures on the property include two garage buildings with a total of 16 garage spaces, three guest/staff apartments, and an exercise/dance studio. There is also a 7,600sf office/shop building, where Mr. Crean's television cooking show, "At Home on the Range", was taped. The show was co-hosted by longtime family friend Barbara Venezia and ran on local cable during the 1990's.
About 50 people were in attendance at the auction, including members of the Crean family. Tranzon Asset Strategies began marketing the property in August, and received inquiries from as far away as London and Tel Aviv. Bidding at the auction started at $3.5 million, and quickly rose to $9,000,000. At the end, two local buyers were left trying to outbid each other, until the property was declared sold by the auctioneer at $10.6 million.
"In the case of a unique property like this one, selling at auction can be the best way to bring buyers to the table," says Mike Walters, President of Tranzon Asset Strategies. "We did local and international advertising in order to bring the property to the attention of buyers around the world."
Many groups looked at the equestrian-zoned property with an eye to turning it into a bed and breakfast or a convalescent facility. The successful buyer turned out to be an Orange County businessman, who stated that he plans to keep it the way it is. The sale is expected to close escrow in October.