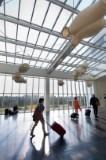 Global Choice is designed to give an agent complete visibility into all factors related to a passenger's record.
New York, NY (PRWEB) October 01, 2013
Since announcing the launch of the joint venture of Airline Choice with Global Choice Solutions, a longtime partner and division of Global Elite Group, Garden City, New York. The new joint venture has better positioned both companies to bring transportation security technology and consulting to the airline security management market. "Since announcing the new venture, customers are very pleased with the new and innovative products available," explained Victor Anderes, Executive Vice President of Global Elite Group.
Industry Leading Security Technology, Twice the Expertise, Twice the Experience.
Global Choice is an integrated product that brings together the expertise of Airline Choice and the Global Elite Group, a partnership created to meet the growing demands of the transportation industry. Today, Global Choice supports over 35 airlines globally with advanced Security Technology solutions around travel document authentication, passenger risk assessments, visa verifications and compliance with data submission to Immigration authorities.
Solutions that Benefit Airlines, Airports and Passengers.
Global Choice has been leading the industry in innovation in technology solutions and service delivery for over a decade. Built with direct feedback from industry stakeholders, the Global Choice solution delivers true operational benefits while providing an added level of security and peace of mind to Airline and Airport Security Directors while enhancing the passenger experience.
Designed to give an agent complete visibility into all factors related to a passenger's record, Global Choice provides a comprehensive risk assessment factoring in details such as document validity and authenticity, full PNR profiling, vetting and visa status. Bringing the details that matter to the surface, an agent is able to streamline the process, focusing on areas of question and moving the passenger along on their journey safely and securely.
Global Choice Highlights

Full Travel Document Authentication and Verification
Biometric Security Solutions (Facial and Fingerprint)
Passenger Booking Record Profiling
Global API (Advanced Passenger Information) Compliance