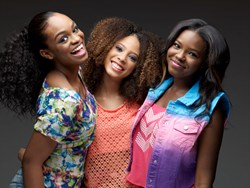 The problem is, social media has empowered people to hide behind their computers, be faceless and say some of the nastiest things. And that's cowardly.
New York, NY (PRWEB) October 01, 2013
Being a bullying victim is hard, especially when you go from being a face in the crowd to the national spotlight. Such is the case with Love Jones Girlz, the hot teen group everyone is buzzing about from New York City. Currently on the cusp of becoming household names, the three dynamos who comprise the group—Claire Jones, age 16; Noni Storm Chinn, age 16; and Taylor Nirvana Jones; age 15—know well the trials and tribulations of being a teen in today's social media-driven world. From the usual challenges of peer pressure to the dangerous arena of online bullying, Love Jones Girlz decided it was time to turn a negative into a positive.
Just in time for National Anti-Bullying Awareness Month, the trio is releasing their music video "RUMORS," the first from their debut EP "Addicted to Lipgloss."http://www.youtube.com/watch?v=_NItt6BISC4
Having all been victims of bullying themselves, the girls called on their personal experiences to create the song. "After we started becoming popular," says group member Taylor Jones, "we were getting so many negative comments on YouTube, and people started saying they hate us for no reason. It wasn't fair and it wasn't right." Adds Noni Storm Chinn: "The problem is, social media has empowered people to hide behind their computers, be faceless and say some of the nastiest things. And that's cowardly."
"So we decided this would be the best way to take control of the situation and push back," explains Claire Jones—"not only at some of the comments, but to take a stand against bullying itself. We are hoping that by putting this video out, it will empower other teens."
The music video, which was directed by Rock Davis and Jay Rodriguez of Itchy House Films, places the girls in the urban oasis of a Harlem playground. With visuals of double-dutch jump-roping interspersed with vignettes of teenagers coping with negative situations, Love Jones Girlz deals with and tackles the increasingly pressing concerns about social media in the 21st Century. As always, the Girlz perform against a backdrop of hip-hop dance routines, choreographed by Jared Jenkins (Broadway Dance Center, New York).
The song was produced by Jonathan Frost and Sage Brantley; and co–produced and mixed by Charlie "C.J." Jones. It features blues inspired guitar riffs punctuated by a syncopated soul clap with an in-your face drum track, a blend that culminates in an electrifying, hard-edged pop-urban sound.
In August, Love Jones Girlz joined forces with Emblem 3's "Team Inspire—I AM Campaign," a movement dedicated to bringing worldwide awareness to building self-esteem in youth. By encouraging young people to tap into their highest potential, Team Inspire hopes to change the world one mind at a time. Throughout their promotions, Love Jones Girlz have been inspired and emotionally energized by sharing their stories with other girls their age. They were also featured as part of actress-activist Marlo Thomas' anti-bullying campaign on the Huffington Post as well as on the national No Bully Tour.
On October 6th, Love Jones Girlz will be at DigiTour 2013 in New York to do a meet and greet with fans at Terminal 5. Then on October 9th, the group will perform in New York at Tammany Hall, and will dedicate part of their set to National Anti-Bullying Unity Day. Then on October 16 through 18, the ladies will be in Los Angeles on The School Tour, and will also perform at Taste of Soul on October 19. On October 22, the trio will appear at SOB's, and then at the ING New York City Marathon on November 3rd. Most recently, the trio performed on BET's "106 & Park—Wild Out Wednesday's Coca Cola Summer All-Stars."
Radar Artist and Talent Management is dedicated to the development and career enhancement of entertainers across multiple platforms. The company was formed by Emmy Award winning mixer Charlie C.J. Jones and former Wilhelmina Model/MSW Alina Patton. (http://www.radarartists.com)