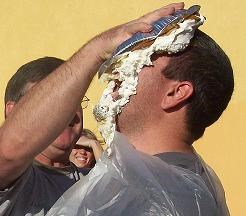 Nobody is immune.
Groesbeck, TX (PRWEB) October 03, 2013
Each year, ILSA participates in a collection of community events. This includes Relay for Life, where everyone can participate in the fight against cancer, either as an individual or team, by raising money for the American Cancer Society. Each team conducts fund raisers during the months of September and October in preparation for the Relay for Life.
To liven up their fund raising events this year, Team ILSA will hold one of its messiest and craziest fundraisers: The Pie in the Face Contest. Anyone can vote to see their favorite ILSA employee get a Pie in the Face. One vote for $1, or six votes for $5, and nobody is immune, not even the owners, Arleen and Ted Taveras. Invitations to "vote" were sent to ILSA's clients and contacts across the United States. Donations can be made via the Team ILSA Page on the Relay for Life website. Receipts along with votes can be emailed to the Team ILSA Contacts:
Angie Dyer: adyer(at)ilsainc(dot)com
Joan McEntyre: jmcentyre(at)ilsainc(dot)com
Joyce King: jking(at)ilsainc(dot)com
ILSA is also taking donations of cash or checks in their offices located at 111 N. Railroad Street, Groesbeck, TX.
On Monday, October 7th, at 3:30 p.m. CST, all votes will be tallied and the top five winners will be announced. The five special pies made for the event will then be auctioned off to the remaining employees via donations to Relay for Life. Bidding, for the five coveted spots as Pie Thrower, is expected to be heated. The pies will fly immediately following the final pie auction. The entire event will be filmed and quickly made available on ILSA's Facebook, Twitter, Linked In, Google+ and YouTube Channel.
On Saturday, October 5th, 7 a.m. to 2 p.m., ILSA will be hosting a large garage sale in their courtyard; all items for sale have been donated by employees and their families. Additionally, Team ILSA family members will be riding the Relay for Life Parade Float in the Groesbeck Homecoming Parade. Team ILSA will participate in the Official Relay for Life in Limestone County, on October 26th thru 27th at Fort Parker State Park. Because cancer never sleeps, the relay is an overnight event running from 6 p.m. on Saturday, October 26th through 6 a.m., Sunday, October 27th.
About ILSA:
Insurance Licensing Services of America, Inc., is a complete insurance licensing and compliance provider offering over 50 services including: licensing, license renewals, CE tracking, surplus lines reporting & tax filings, and Secretary of State filings. ILSA was founded in 1997 by Ted and Arleen Taveras who saw a clear need for a centralized licensing and compliance solution for agents and agencies struggling to navigate the complex regulatory environment. Videos highlighting ILSA's many services are available on their corporate website: http://www.ilsainc.com.