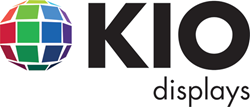 KIO Displays Introduces the DMP-3000, A Low-Cost Digital Media Player for Digital Signage
SAN DIEGO, CA (PRWEB) October 01, 2013
KIO Displays, Inc. introduces a low-cost, small form factor digital media player. The DMP-3000 is ideal for mounting to the back of LCD displays and supports displaying video and images as well as play audio.
Content management is amazingly easy. To update the DMP-3000 with stunning videos and images, use your favorite web browser to manage the content. The software is intuitive and easy to update your current campaigns.
The new media player is available now and parties interested in purchasing the unit should either contact sales(at)KIODisplays(dot)com or view the product's website to obtain mode information by visiting the following website: http://www.KIODisplays.com/dmp3000.html
About KIO Displays
KIO Displays, Inc. designs, develops and supports a suite of browser-based digital signage products that allows users to create, manage and schedule organizational communications from anywhere and to deliver messages and media to virtually any endpoint. The company offers digital signage, media players, kiosks and video wall products. Learn more about KIO Displays' digital signage products and services at http://www.KIODisplays.com.