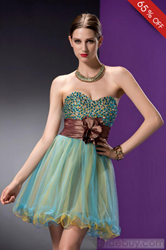 HK, China (PRWEB) October 01, 2013
Tidebuy, a reliable online women clothing store, offers great discounts on its attractive dresses. The customers of this store will enjoy up to 75% discount on their items. It is announced that all these dresses are very stylish and gorgeous. They are designed by a group of gifted designers who have spent lots of time on studying the fashion trends and the demand of customers in the past several months. The CEO of the company is very confident in this dress collection. He said in the launch day that he believed that they will win the battle in this sales season.
As a comprehensive online store, Tidebuy sells not only women's clothing but also kids' outfits, wigs and other fashion items. It has business in more than 230 countries, such as America, France, India and other countries. Every day, it will receive thousands of inquiries and orders from these countries and also it will deliver its products 24 hours a day to these countries. Usually, the orders will be handled in two or three days due to the customization and the quality checking issue.
"We devote to offering high quality and impeccable products to customers, so even though the handling of each order may be a little bit longer than other stores, we will maintain it, and I'm sure that our customers will understand us when they get their products," the CEO of the company said in an interview.
Indeed, Tidebuy receives lots of positive and complimentary reviews for its products, which proves the truth of the CEO's word. All sales persons of this company have been trained to inform every customer of the preparation period of their products so that their customers can be clear about the shipment and also be able to arrange their order. Usually, the emergent order will be solved early so as to make sure the customers will receive their items on their due day. Owing to its high quality products, good customer services and on time fast delivery, Tidebuy receives an increasing number of returned clients. More information about Tidebuy reviews is available at http://www.tidebuy.com/reviews/.
About Tidebuy
Tidebuy is a Chinese online store for women fashion items, such as dresses, outwears, pants and women accessories, but with the development of the company, now it also sells kids items, wigs and other items. It was set up by a group of passionate youngsters in 2010. As a young company, it faces both challenge and opportunity. Its perspicacious CEO, talented managers and diligent employees are working hard to create a prosperous future for the company.