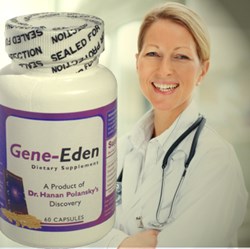 The HPV virus is a bad, bad virus. Infected people should be concerned. We're happy to say that they can target the latent HPV through Gene-Eden-VIR. – Mike Evans, polyDNA
Rochester, NY (PRWEB) October 02, 2013
polyDNA's September survey showed that many people don't realize that the Human Papillomavirus (HPV) can cause non-melanoma skin cancers in addition to other forms of cancer and genital warts. For example, a study published in The Journal of Pathology in January 2006 said that "In addition to being strongly associated with the development of cervical carcinomas (cancers), high-risk mucosal HPVs are also associated with the development of other specific epidermal cancers (1)."
In other words, as WebMD notes, "The HPV viruses that cause non-genital warts may increase the risk of getting common skin cancers… (2)." The Journal of Pathology went on to say that "The percentage of HPV DNA-positive NMSCs (Non-Melanoma Skin Cancer) in immunosuppressed patients is about 80% (1)." That is, in patients with weak immune systems, HPV can cause skin cancer.
However, not only people with weak immune systems are susceptible to HPV related skin cancer. The virus can also cause skin cancer in the general population. "HPVs have also been found in normal skin and NMSCs in the immunocompetent general population, with detection rates of about 30% (1)."
Research shows that HPV is more common in people with skin cancer. According to WebMD, "People with squamous cell skin cancers tended to have been infected with more skin HPV types, or cutaneous HPV, than those who did not have cancer (2)."
In the open comments section of polyDNA's survey, Jorge S. of El Paso said, "I didn't know HPV could also cause skin cancer. It seems like all you hear about these days is cervical cancer. Nobody talks about skin cancer and HPV."
"The HPV virus is a bad, bad virus. Infected people should be concerned. We're happy to say that they can target the latent HPV through Gene-Eden-VIR." – Mike Evans, polyDNA
Gene-Eden-VIR is a natural HPV remedy that was designed to help the immune system target the latent HPV virus. A recent post marketing clinical study published in the peer reviewed, medical journal Pharmacology & Pharmacy, in a special edition on Advances in Antiviral Drugs on August 12, 2013 showed that Gene-Eden-VIR is safe and effective (3). Additionally, up to 70% of those studied reported a decrease in HPV symptoms (3).
Each ingredient of Gene-Eden-VIR was chosen through a scientific approach. Scientists scanned thousands of scientific and medical papers published in various medical and scientific journals around the world to identify the safest, most effective natural ingredients that target the latent form of HPV. (3)
To learn more about Gene-Eden-VIR and HPV, visit http://gene-eden-kill-virus.com/HPV-Remedy.php. All orders of Gene-Eden-VIR are completely confidential, and no information is shared or sold to any third party. Privacy is assured.
Reference:
(1) http://www.ncbi.nlm.nih.gov/pubmed/16362995
(2) http://www.webmd.com/sexual-conditions/hpv-genital-warts/news/20100708/hpv-viruses-linked-to-skin-cancer
(3) http://www.scirp.org/journal/PaperInformation.aspx?PaperID=36101
polyDNA is a biotechnology company that develops dietary supplements using the unique scientific method developed by Dr. Hanan Polansky, which is based on Computer Intuition.
In addition to his unique scientific method, Dr. Polansky published the highly acclaimed scientific discovery, called Microcompetition with Foreign DNA. The discovery explains how foreign DNA fragments, and specifically, DNA of latent viruses, cause most major diseases.
polyDNA developed Gene-Eden-VIR , an antiviral natural remedy that helps the immune system kill latent viruses.