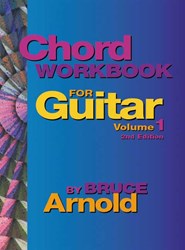 I wanted to pour everything I felt was missing in most chord books into this one resource.
New York, New York (PRWEB) October 01, 2013
Fact: The guitar is the most popular instrument on earth and has the reputation of being an autodidact's delight. But it is a far cry from being a simple instrument. For example, on its 6 strings, there are numerous places to play the same note (middle "C" occurs in 5 places alone!) Add the construction of chords to that, and the possibilities start to resemble 3 dimensional chess. So while it is possible to teach oneself the most basic chords, making the leap to greater knowledge (and expression) is no small enterprise. This new release "Chord Workbook for Guitar Volume One" was created for the guitarist who wants to really learn this wonderfully flexible and complex instrument. Along the way, author and guitarist Bruce Arnold instills an understanding of the theory behind it all, and by presenting the chords as written music and diagrams, allows the student to learn in either medium.
 "I wanted to pour everything I felt was missing in most chord books into this one resource," says Arnold. "So many books I encountered never explained WHY some chords sounded the way they did, why one seemed to lead naturally to another, or how to figure out where a chord could be played elsewhere on the neck. They gave me chords, but they never connected the dots so I could stand on my own two feet, musically." Information has always been at the heart of Arnold's 35 year teaching career. He firmly believes in de-mystifying the way western music is constructed, particularly for guitarists who, being frequently self-taught, can end up frustrated. That is why although the "Chord Workbook" contains hundreds of chords and progressions in its 179 pages, it spends just as much time explaining how they work, and how the student can take this information and become the musician they want to be.
But significantly, the book also comes with online MP3s to play along with, at muse-eek.com. These MP3s contain each of the 36 chord progressions played at three different tempos. These 36 progressions are: Twelve 12 Bar Blues chord progressions, one in each key, twelve 12 Bar Minor Blues chord progressions, one in each key and twelve "Rhythm Changes" chord progressions, one in each key. By working with the MP3's a student can start out slowly at a comfortable tempo, and work up to an impressive speed. A companion set of MP3s called "Complete Blues Comping, both Major and Minor" is also available to help a guitarist develop a feel for the overall form of a Major and Minor Blues - crucial to playing with others. Besides being a useful tool for playing solos over, working with MP3s is excellent for correcting tempo problems, like speeding up or slowing down.
While working steadily with this book can take a beginner to a professional level, even intermediate to advanced players will find information that can be used for a lifetime of playing. The book offers a clear and logical system to learn the fretboard. Along with basic theory, it also covers sight reading of chord voicings, chord tensions, and reharmonization of progressions. This comprehensive approach can be applied to virtually any music the aspiring guitarist wishes to master.