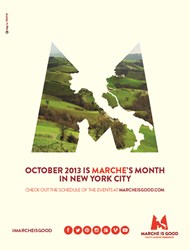 Marche: Good Life. Good Food. Good People. Discover more at www.marcheisgood.com.
New York, New York (PRWEB) October 01, 2013
"Marche is Good" is the theme of a month-long series of events taking place in New York City throughout October highlighting Italy's Marche (Mar-kay) Region. Sponsored by the Regione Marche and Consulata Agroalimentare di Confindustria Marche, "Marche is Good" will present the culture, food, wines & sprits, design and fashion of one of Italy's most beautiful regions in an exciting programs designed to showcase everything "Made in Marche." A wide range of professionals and world-renowned brands will participate in the events to be held at academic locations, cultural institutions, major stores, showrooms and restaurants throughout New York.
Located in central Italy, Marche has a wonderful history and is regarded as the birthplace of Raphael, operatic composer Gioacchino Rossini, and poet Giacomo Leopardi, as well as modern talents such as award-winning cinema production designer Dante Ferretti, major brands and even the Winx, a popular children's show!
Some of the highlights of the "Marche is Good" happenings include:

Tribute to Academy Award winning production designer Dante Ferretti at the Museum of Modern Art including a film and gallery exhibit (current);
A display of an early painting by Raphael of Saint Catherine of Alexandria at the Italian Cultural Institute (10/1-28);
Food photo exhibit by Chef Fabio Trabocchi and photographer Francesco Tonelli at Scavolini Showroom in Soho with live music featuring young graduates of the Mannes School of Music and artist Nicole Renauld(10/1);
Lecture at NYU by director Francesco Micheli about the rich tradition of local lyric theater and Operatic festivals (Rossini, Macerata and Pergolesi-Spontini) featuring live arias by graduates of Mannes School of Music(10/2);
Lecture at NYU by food and opera expert Fred Plotkin about the interwoven story of Marche, food and art (10/3);
Tastings of Marche foods, wines and spirits at various restaurants and stores including the Italian megastore Eataly and historic Di Palo in Little Italy who will personally led a conversation about Marche (10/18);
Pasta Party at Helen Mills Space (10/11);
Conversations on fashion and design with tastings at boutiques and showrooms including Scavolini, Cesare Paciotti, Pedini, IGuzzini Lighting, Silvano Lattanzi, and Max Girombelli;
Special feature: display of authentic operatic costumes from three of the Marche region's lyric festivals at Cesare Paciotti boutique, Silvano Lattanzi boutique, Scavolini Gallery, I Guzzini Showroom, and Eataly.
Participating manufacturers from the Marche will join the conversations, offering information about the region, its people, the culture, traditions and lifestyle.
"Marche is Good is much more than a mere promotional initiative," says Maria Orietta Varnelli, creator of the project. "It is a great operation that focuses on the fertile synergy between Culture & Food, initiating a process of identity with which to identify, to enhance the pride of being spontaneous ambassadors of a special land through our products."
For more information and a complete program, visit http://www.marcheisgood.com.
Media inquiries: daniela(at)accentpr(dot)com