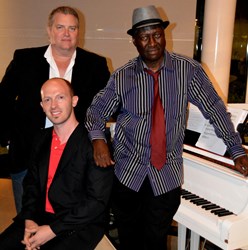 The Trio's uptempo swing and elicit Latin grooves will set the mood for any setting or event. Ivy N McQuain Managing Partner/ Media consultant for the BLI Group
Dallas, Texas (PRWEB) October 02, 2013
On Tuesday October the 8th, 7:00 until 11:00 PM The John A. Lewis Trio will bring their unique style of jazz to the Sambuca Uptown Restaurant, located at 2120 McKinney Ave, across from the Ritz Carton and Crescent hotels.
The Trio consists of composer/pianist John A Lewis bassist Lincoln Apeland and drummer Merik Gillett.
The Trio has been performing together for over three years. They have performed at such venues as The Sammons Center for the Arts the Jazz in the Atrium series at the Dallas Museum of the Arts, the Sandaga Music Emporium and festivals, clubs and restaurants throughout the Dallas-Fort Worth area.
The trio has a unique style that has been described by Jazz Inside magazine as hypnotically pleasant. The music is compelling but not overpowering and always accessible.
The Trio's repertoire consists of jazz standards, Latin flavored tunes, show tunes with a fresh twist and tunes from their critically acclaimed recording "Progenation".
Sambuca Uptown managed by Jeff Carlson is an excellent place to hear jazz. You get a clear view of the performers and the acoustics and sound system are great.
Check out the John A. Lewis Trio and enjoy the fine food and great atmosphere at Sambuca Uptown. Also, check out the activities of the John A. Lewis Trio on Facebook and Twitter and visit the John A. Lewis website at johnalewisjazz.com. To purchase the recordings of the John A. Lewis Trio and Music by John A. Lewis visit CDbaby.com.