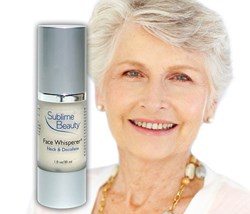 The neck cream is currently on sale, and is part of the popular Face Whisperer® line which includes a day with Argireline and a night cream with the peptide Matrixyl (which can double collagen production.)
St. Petersburg, FL (PRWEB) October 01, 2013
Thinning skin is part of the intrinsic aging process that typically begins in the mid-20s, according to the American Academy of Dermatology. But with proper care, the neck and decollete can be sexy and healthy as we age.
"Our Face Whisperer® Neck & Decollete cream is stock full of very beneficial ingredients to care for the fragile skin," says Kathy Heshelow, founder of Sublime Beauty®.
"In addition to Argireline® (known as the natural botox) which relaxes wrinkles, we include sunflower and coconut oil, organic arnica, aloe, lemongrass and sodium hyaluronate. The creamy consistency feels nurturing on the skin and it absorbs well," Heshelow says.
The Neck & Decollete cream is currently on sale, and is part of the popular Face Whisperer® line which includes a day cream with Argireline® and a night cream with the peptide Matrixyl (a peptide which can double collagen production.) An special eye gel will be introduced next month as well.
The Face Whisperer® line was recently highlighted on NetCast News (NCN).