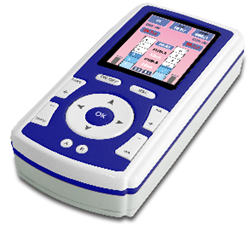 Columbus, OH (PRWEB) October 04, 2013
Spectramed, Inc., a North American neuromuscular electrical stimulation (NMES) electrode manufacturer and specification developer is releasing its newest line of electromyography sEMG and stimulation devices.
The Aspire Series sEMG/Stimulation devices provide one platform to work unilaterally across all modalities of therapy. Speech-language pathologists can now perform traditional Guardian therapy and at the same time track objective data for patient progress. Spectramed has specifically designed the Aspire to capture functional data outcomes based on the latest G-Codes and severity modifiers for speech, physical and occupational therapy.
"As part of the Middle Class Tax Relief Act of 2012, Centers for Medicare and Medicaid Services (CMS) must collect information regarding functional outcomes to help insure future Medicare payment reforms. After July 1st, 2013, outpatient rehabilitation therapy providers must provide information about the beneficiaries function and condition, therapy services furnished and outcomes achieved. To enforce compliance, claims without the appropriate G-codes and severity modifiers will be returned unpaid by CMS, adding documentation burdens on therapists and putting practice cash flow at risk."
Richard J. Fisher, President of Spectramed, Inc. said: "We continue to listen to the market and react with the changing times to provide our clients with products that enhance therapy outcomes. The Aspire Series is another tool that will provide therapist one more dimension to measure patients progress and document objective data outcomes. This is a big step in our commitment to develop, manufacture and distribute superior products".
The Aspire Series portable system works by attaching a series of three electrodes onto the patient's body depending on the area of treatment. The two primary functions of the device are to provide biofeedback therapy and NMES. The NMES function is used for Relaxation of Muscle Spasms; prevention or retardation of disuse atrophy; increasing local blood flow circulation; immediate post-surgical stimulation of calf muscles to prevent venous thrombosis; maintaining or increasing range of motion and stroke rehabilitation by muscle re-education. The second function is the combination of sEMG and NMES to produce electrical trigger stimulation (ETS). This treatment is especially useful for stroke rehabilitation and pelvic muscle improvement. ETS is a combination of voluntary contractions with stimulation. A single ETS session typically lasts 5-15 minutes. The treatment is similar to EMG work/rest with one difference: as soon as you reach the target threshold during the Work period, the stimulation occurs, which helps to support the contracted muscle.
The color interface and toggle control provides a simple and positive experience for visual feedback and seamless navigation from the home screen options. The sEMG biofeedback bar graph, displayed on the LCD screen of the device, can assist the users to meet their pre-set strength targets. The EMG graph can be changed to a waveform format which can be viewed on the LCD screen of the device, or on a PC linked to the device using the Aspire software. The waveform format can help clinicians analyze the progress of the patient's condition. After each session the results are recorded to show the ongoing history of the user's improvement. Newly developed programs can be downloaded via supplied software from a desktop or laptop computer. This keeps the users abreast of any clinical developments relating to those specific programs.
About Spectramed, Inc.:
Manufacturing electrodes since 1981, Spectramed broadened its product offering to include, Guardian Dysphagia Therapy® in 2007. The overwhelming support of the Guardian Therapy electrode line has grown into new biofeedback and stimulation devices in addition to nationwide ASHA approved training courses. For more information please contact Howie Morrison at 1-704-490-0691 or by email howie(at)spectramedonline(dot)com.