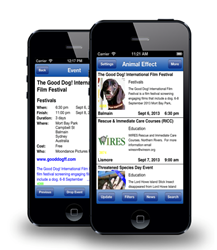 Animal Effect will revolutionise animal social justice in Australia by providing a platform for advocacy organisations to build capacity and collaborate towards a common objective.
Sydney, Australia (PRWEB) October 04, 2013
The iPhone version of Animal Effect has been available in the iTunes Australia Store since March 2013 for $2.99AUD, with the Android version about to be launched to celebrate World Animal Day on 4th October 2013 at the special price of $1.99AUD.
Animal lovers, event organisers, and charities all over Australia finally have easy access to news, events and campaigns in the palm of their hands. The App will be launched in the USA in first quarter 2014 and Europe and Asia in the second quarter 2014, making this a global product.
Users of this app can find out about animal-related events they are interested in without having to rely on websites, e-mail, word-of-mouth, notice boards, Twitter, Facebook or newspapers. As a result, they will never miss an event, even when they are in an unknown town.
Users can easily navigate the list of upcoming events, and take advantage of the App's handy maps to pinpoint the exact location. It is also possible to share these events with friends via email and text at the push of a button. Users can sign online petitions via the App.
The event filtering function allows users to search for events of their choice. The news feature provides access to animal-related news with links to the original story.
Animal Effect App promises to be a invaluable tool for animal charities and event organisers as both live and virtual events can be listed free of charge. This will assist them in increasing the attendance at these events, promote their projects and take advantage of free advertising and promotional platform to a demographic for which their events and campaigns are intended.
Since the soft launch of the Animal Effect App for iPhone and iPad in March 2013, more than forty organisations have listed their events and the App has been rebranded following extensive market research on the demographic of intended users. It will be launched for Android users at World Animal Day on 4th October 2013 and thirty-six major animal organisations in Australia are involved in a co-ordinated online launch on that day.
The developers of Animal Effect App are donating 20% of the net proceeds of the special World Animal Day price $1.99 to different animal groups and charities. The 20% donation will continue when the App reverts to $2.99.
Animal Effect App is available in the Apple Itunes and Google Play stores.