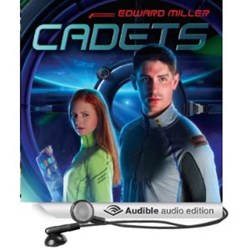 "This one really shouldn't be passed over." - Impact Online
(PRWEB) October 01, 2013
SciFi Publishing is proud to announce the release of its newest scifi audiobook, Cadets. Cadets, written by bestselling author Edward Miller, is now available for sale on Amazon, Audible and Itunes. http://amzn.to/18hw32b.
About Cadets
On a remote training planet, hotshot Earth Defense Fleet Cadet Ryan Thompson and his peace loving ex-girlfriend Amanda Williamson can't agree on anything. But when news comes of an alien invasion of Earth - the first in human history - they are thrown together on a deadly, unauthorized mission to face an unknown enemy. What they find is beyond their wildest expectations. A discovery that changes everything they thought they knew...about their hostile adversaries - and mankind.
With a trail of riddles and mysteries, epic space battles and journeys to the far corners of Earth, this "Star Trek meets Indiana Jones" sci-fi adventure from author Edward Miller should appeal to fans of sci-fi space operas and young adult science fiction.
What People are Saying
"With clever ideas and agile prose, Miller builds a world reminiscent of Star Trek: Ryan is a rebellious young Captain Kirk who knows that "sometimes going by the book [isn't] the best course to take." Amid the pop-culture references to Star Wars and comic books, Miller's believable, motivated characters shine, as Ryan's brashness conflicts with Amanda's search for peaceful solutions. A tightly written, fast-paced prose supernova." KIRKUS REVIEW
"The book provides well-rounded characters that learn to work together and solve problems practically... even the aliens aren't blank evil forces bent on destroying all life on other planets; they feel that they have a legitimate grievance. [Cadets is] enjoyable, fun, and full of adventure. This one really shouldn't be passed over." Rating: 9 out of 10 - Impact Online http://www.impactonline.co/reviews/1349-the-impact-review-cadets.
About the Author
Edward Miller is the author of the YA space adventure, Cadets, and co-author of The Kronos Interference, which was named to Kirkus Reviews Best of 2012. As chief editor for a sci-fi simulation website for over fifteen years, he has crafted hundreds of stories designed to take readers to new places and immerse them in mind-bending situations. He is currently working on a sequel for Cadets that he is hoping to finish it within the next 4-6 months.
About Sci-Fi Publishing
Sci-Fi Publishing enables authors to bring their work to life, creating powerful audiobooks for Sci-Fi fans. We partner with authors from audiobook production to marketing so they can continue to focus on their passion, creating new and amazing worlds.
For more information about us and to discover other great audiobooks, like Jay Allan's "Bitter Glory", and "Dragon's Banner" visit us at either http://www.scifi-publishing.com or http://www.scifi-audiobooks.com.