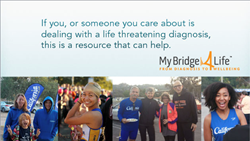 California Triathlon is excited to partner with My Bridge 4 Life to build this first-of-a-kind platform for athletes and their families.
Los Angeles, CA (PRWEB) October 29, 2013
My Bridge 4 Life™ and California Triathlon announced today the launch of Athletes 4 Wellbeing, a wellness network devoted to athletes using "active lifestyle" as a part of their wellness plan for managing a life-threatening diagnosis or condition.
"Nine years ago I sat across the desk from a physician and heard the words that one in two men and one in three women in the US will hear: You have cancer," said Roger Holzberg, founder of My Bridge 4 Life (MB4L). "My doctor told me to set three goals for the next year, always a good idea for cancer survivorship. My goals were to complete three races that raised funds for research and kept me healthy at the same time." Nine years later, Holzberg has completed more than 40 races, from triathlons to half marathons, and has met hundreds of other athletes who are using diet and exercise, "active lifestyle," to manage conditions including diabetes, MS, obesity, heart disease, cancer and many more. "There was never a place for us to share the best practices we'd learned along the way with other patients using 'active lifestyle,' so I approached California Triathlon about partnering to create one."
MB4L is revolutionizing the patient treatment and information experience. Utilizing emerging technologies and digital media to create healthcare content, products and services that better health and wellness outcomes worldwide, MB4L is dedicated to improving the patient journey. MB4L partners with leading healthcare organizations and foundations to enhance patient community awareness, engagement and interaction. The MB4L Wellness Network is a proven program and proprietary, patent-pending platform that currently supports patients, caregivers and healthcare professionals in over 50 life-threatening conditions. These wellness networks enable patients to connect with MB4L for customized professional healthcare content and expert educational support.
Numerous research studies and the National Institutes of Health report on the benefits of maintaining an active lifestyle. Physical activity can be helpful in preventing lengthy postoperative hospitalizations and limiting complications during recovery. Adopting an active lifestyle also is found to be beneficial to overall well-being and health-related quality of life. Physically active adults report better vitality, physical functioning and general health than inactive adults.
"California Triathlon is dedicated to educating people on the benefits of a healthy and active lifestyle as well as sharing best practices within the triathlon community," said founder Thom Richmond. "As Cal Tri grew, I noticed that we had many members who were 'lifestyle' athletes, working their way through chemo, managing diabetes, or heart conditions, and I wanted to do more than simply offer them a training group. As a first step toward expanding our mission into health and wellness, we are excited to partner with My Bridge 4 Life to build this first-of-a-kind platform for athletes and their families."
California Triathlon members are already contributing to the network. "I'm managing hereditary cholesterol and heart disease issues with 'active lifestyle' and have been since my dad and one of my brothers died at an early age. I'm the only child from a family of seven not on statin drugs," said Jocelyn Harrison, Cal Tri member and member of the Athletes 4 Wellbeing network. "I am thrilled to finally have a place to engage, learn and share with other people about how to live healthier, longer, active lives."
"Everyone I meet who has overcome a challenge and is living an active lifestyle has Tips 4 Life they have learned along the way. With this project we will finally have a place to pay those Tips 4 Life forward to the patients, caregivers and healthcare providers following in our footsteps," said Holzberg, MB4L's founder.
About My Bridge 4 Life™:
Since 2009, My Bridge 4 Life™ (MB4L) has been creating world-class products utilizing emerging technology channels to redefine health and wellness opportunities in our world. MB4L is at the forefront of the digital health movement, empowering patients and caregivers to actively manage their health and wellness, and enabling organizations to transform the way they reach and engage consumers. MB4L provides innovative tools and (patent pending) platforms to reach even the hardest-to-reach populations. To learn more MB4L and our current projects, visit our portfolio site at http://www.MB4L.com.
About California Triathlon:
California Triathlon Network (CTN) is a 501(c)(3) community service group with 1,600 members that is affiliated with 35 triathlon clubs. A principal purpose of the California Triathlon Network is to facilitate training to educate people on the benefits of a healthy, active lifestyle as well as creating opportunities to share best practices within the triathlon community. For more information, please visit http://www.CalTriathlon.com.