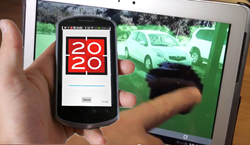 The app has all of the features you'd expect to see on high-end security cameras.
Perth, WA (PRWEB) October 01, 2013
Australian based company Uwatchit have driven a nail into the heart of manufacturers of expensive security cameras.
By taking a standard smartphone and loading their app, 20:20 Security Alarm System, the phone is converted into a remote HD security camera. The company is promoting the app as a great way to recycle customers old or unused devices.
The app has all of the features you'd expect to see on high-end cameras. It has advanced motion detection built in with a really clever system of "painting out" parts of the picture that the user doesn't want to trigger an alarm on. It even has built in spoken warnings that are issued when the phone/camera detects movement.
The action is stored to the companies secure cloud server. App users can access it from their every day smartphone that is also running the app. The app on the users everyday phone (or tablet) allows the user to view the cameras from wherever they are, in real time. It also provides full control of the system, including the ability to turn alarms on and off.
Not everyone has an old smartphone lying in a drawer. So the company also sells a 2mp HD phone for $140 that users can use with the app from their website. It also sells mounting accessories and additional wide angle lenses. This gives users the opportunity to have a multi camera, HD, remote security system for well under $1000. This price of one high end HD security camera with similar features.
Drawbacks? At present the app is only available on the Android platform. The IOS version is on its way. This will allow users to use a combination of Android and IOS devices to setup their home or business security.
Cost? The app is a free download from Google Play. The free version allows users to link up to 3 cameras and remotely view them. If you want to use the alarm and cloud recording features, monthly plans start at $3.99 a month.
Download the app on Google Play: https://play.google.com/store/apps/details?id=net.burtek.cloudcamera.
Website: http://2020hd.com/