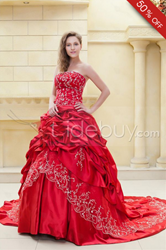 HK, China (PRWEB) October 02, 2013
Tidebuy, the leading Chinese women clothing store, offers great discounts on its latest wedding dress collection. Any person who buys a wedding dress from this store will get a chance to enjoy up to 85% off discount on the item.
"It's really exciting to share our latest wedding dress collection with customers. This collection is particularly designed for the coming sales season. All wedding dresses in this collection are fashionable and gorgeous. What's more, they are manufactured with top quality materials and remarkable craftsmanship. We are confident in this battle and firmly believe that we will be the winner," the spokesman of Tidebuy said in a press conference held on the launch day.
According to what said by the spokesman of Tidebuy, the e-commerce business will welcome a sales season, which means a battle begins. All e-commerce companies including Tidebuy will need to make full preparation to win the battle.
In addition to the launch of the latest wedding dress collection, Tidebuy also adds hundreds of new products, such as autumn sweaters, blouses and so on. Moreover, all these new items are available with a competitive price. Take a look at the site http://www.tidebuy.com; all these items are stylish and cheap. Most warm and stylish sweaters at the site come in bright colors, and they seem to tell the customers that summer's not gone.
About Tidebuy
Tidebuy is an e-commerce company based in Beijing, China. It was set up by a group of extraordinary youngsters each with an expertise in a particular field. The CEO of the company, Mr. Yang, is well-known in the field of SEO. It is him who sets up the company with his partners. After the three-year development, Tidebuy has become a very successful e-commerce company. It not only has its own garment factory, but also owns three subsidiaries in different cities of China. Its subsidiary in Xi'an is the biggest one of the three. Now, this subsidiary company has more than 300 employees and 6 department managers. It owns a customer service center, a sales department as well as a marketing department. Every day, thousands of customers will call its customer service center to inquiry about its products or order products.