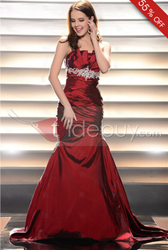 HK, China (PRWEB) October 05, 2013
Gorgeous and elegant evening dresses are usually welcomed by women. Recently, Tidebuy, a reliable and leading online store on women items, has launched its fabulous 2013 new arrival evening dress collection. What's more, it offers huge discounts on these items, up to 75% off. It is surely a piece of exciting news to women.
"Now, the autumn comes, our e-commerce business will enter into a sales season when most of items online are sold well." The spokesman of Tidebuy said in an interview, "In order to welcome this sales season, our talented designers work day and night to study the fashion trends of fall and winter and also the demand of our customers. This evening dress collection is more like a work of art. Every piece of cloth used on these dresses is checked by our design and quality control department, and each dress is checked again and again before it goes into the market."
It proves true by the reviews section of Tidebuy that its evening dresses really please the customers. Kate, a French girl, writes in her reviews that she loves the evening dress she ordered. The dress arrives on time with good package. It looks the same as its pictures on the site. She loves the dress very much.
Tidebuy is a relatively big company which owns not only three subsidiaries, but also a garment factory with a design and quality control department. Every day, the workers in this department will check all the materials carefully before they are used to make clothes. After the clothes are made, these workers will check the craftsmanship of these clothes stitch by stitch so as to make sure all clothes are flawless when they go into the market.
"This work requires patience and carefulness, and not everyone can do a good job here. Usually, we do not let new employees take over this job immediately. We offer them about two months to learn the knowledge of materials and tailoring so as to make sure they will do a good job once they completely take over the post," said the manager of the design and quality control department.
About Tidebuy
Tidebuy, a Chinese online provider of women items, was set up three years ago by several passionate youngsters who want to make fortune by their expertise in different areas. The company has gone through the ups and downs, and now it has become a successful e-commerce company which owns three subsidiaries and a garment factory. Under the competitive environment of the e-commerce business, its CEOs, managers as well as employees do not draw back; instead, they stride forward bravely towards the better future.