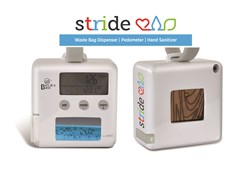 With stride™, we wanted to simplify the dog-walking experience and promote a healthy lifestyle for both owners and their dogs.
Los Angeles, California (PRWEB) October 01, 2013
26 Bars & a Band introduces the revolutionary stride™, the three-in-one walking solution featuring a waste bag dispenser, hand sanitizer compartment, and pedometer. Stride™ provides the simplicity of walking your dog with the convenience of picking up after your pet a cinch, keeping your hands germ free, and making your every step count—all from a single walking accessory.
The multi-functional stride™ is not only innovative but simple to use.

Unlike typical waste bags, which are perforated on a continuous roll, the stride™ waste bags are dispensed individually since they are folded flat like travel tissue. Designed in a natural wood grain print, stride's™ biodegradable waste bags are available in 28-count or 56-count refill packs.
While the task of picking up after your dog isn't always pleasant, stride's™ built-in hand sanitizer compartment makes it easy to keep your hands clean and germ free. Consumers can replenish the refillable compartment with any preferred brand of hand sanitizer.
The pedometer feature of stride™ helps keep track of each step with its multi-axis technology, activity monitoring options for steps, distance, and calories, and up to seven days of stored information. Stride's™ pedometer will help you stay motivated toward better health for you and your faithful canine companion.
The innovative and sleek look of stride™ has the modern design elements that consumers can expect from 26 Bars & a Band. Its glow in the dark strap is adjustable and attaches easily to the handle of any dog leash or belt loop.
Consumers can order the stride™ original walking solution through the company's website.
stride™ Original: $25 (includes 7 starter flat pack waste bags, removable sanitizer container, multi-axis pedometer, and glow-in-the dark strap)
stride™ Flat Pack Woodgrain Refill Pack Options: $6 for a 28-count bag (four packs of 7) and $8 for a 56-count bag (eight packs of 7)
Portable, lightweight, and compact, stride™ is a simple and convenient walking solution that encourages healthy living and creates a walking experience that leads to a happy, healthy and calm pet.
About 26 Bars & a Band:
26 Bars & a Band is a leading maker of modern pet accessories and widely regarded for its design, innovation, and customer focus. The company's pet accessory products have been featured on The Today Show and Elle magazine and have received industry awards including "Most Innovative Retractable Dog Leash" and "Product of the Year."