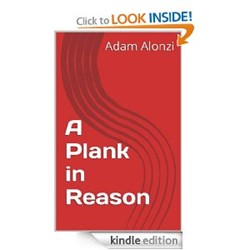 Highly recommended for all people who appreciate the art of writing at a high level as well as the simple telling of interesting stories. -F. Franco
(PRWEB) October 02, 2013
A Plank in Reason is now on Smashwords. Miley Cyrus's performance at the VMAs caused an uproar. Kim Kardashian is one of the most Googled women in the world. One otherwise happy reader found the novel's approach to satire, at times, overwhelming. It has only glowing reviews:
"With the publication of this novel the young Mr. Alonzi has given us a taste and a foreshadowing of great works to come...from an extremely gifted and deeply sensitive artist."
To M. Atkinson, a fan who found some scenes "gross," Alonzi writes "[he] was not being vulgar for its own sake; [he] wasn't merely mocking America's infatuation with the uneducated opinions and irresponsible doings of celebrities...the [coprophilliac] orgy was a materialization of the philosophical themes and motifs subtly hiding under the action's surface."
A Plank in Reason currently enjoys a five star average on Amazon. Mr. Alonzi's second novel, Praying for Death, depicts a zombie apocalypse. It is a "different kind" of zombie novel.