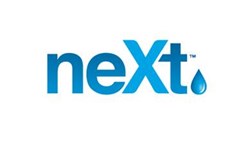 "Utilities and operators needed a non-hazardous product that they could handle without the need for outside contractors, hazmat suits, and risk to their people. We responded," said Dane Madsen, CEO of Blue Earth Labs.
Louisville, KY (PRWEB) October 01, 2013
Blue Earth Labs (http://www.BlueEarthLabs.com), a leading specialty water chemical research and development company building an innovative chemical platform to solve water infrastructure issues, today announced the Company's latest solution, neXt.™ neXt is a non-hazardous, single component, dry formula, filtration media cleaning product specifically engineered as an environmentally friendly, easy to use, highly efficient, cost effective solution for water utilities that need to frequently clean filters. As an alternative to costly replacement, neXt restores the original filterability of the media, thereby, improving performance and prolonging filter life while lowering operations and energy costs.
Filters are the first line of defense in a utility's mission to deliver sufficient and safe water to the public. Accumulation of all deposits, organic and inorganic, on filter media will eventually encapsulate that media, diminishing performance, TOC removal rates, turbidly reductions, and further clog the filter resulting in high head loss, shorter run times and more frequent backwashing that increases energy costs and water loss. All of these factors adversely affect system performance and public water quality. To restore its function, fouled filter media can be treated in situ with neXt to reverse the degradation of filters by removing scale, biofilm and other contaminates. Treatment with neXt minimizes equipment downtime, quickly improves system performance, and reduces operational costs.
With this release, Blue Earth Labs builds upon the success of its Media Master® and Media Master® RR filter media cleaning products to provide a second generation, non-hazardous product that enables utilities to treat their own media after initial laboratory testing to determine the correct product dosage. During the filter media rehabilitation process, neXt requires no liquid catalyst. The catalyst component of neXt increases the efficiency of the cleaning process and assists in the removal of organic and inorganic contaminates from the fouled media.
After a simple application - in its dry form or pumped on as a slurry - across the top of the drained filter, water is added to cover the media surfaces and neXt turns the water blue as the chemical reaction begins to work. The treatment lasts for 12–24 hours, and after the product is exhausted, the water runs clear and contributes no ammonia discharge in the wastewater.
Filter media rehabilitation is often overlooked as an option when filter performance is compromised. The majority of filter media replacements occur because the media appears to be "worn out" or rounded. This incorrect assumption leads many operators to prematurely replace filter media when the media could easily be cleaned and restored to full functionality.
"neXt represents the newest thinking from Blue Earth Labs and the most significant improvement ever in chemical cleaning of filters. Utilities and operators needed a non-hazardous product that they could handle without the need for outside contractors, hazmat suits, and risk to their people. We responded," said Dane Madsen, CEO of Blue Earth Labs. "neXt is so easy and simple that utilities can now use it themselves on a more frequent basis to manage their water quality and extend the life of media without the significant cost of application for hazardous variations or use of straight acids. The markets demanded improvement, and Blue Earth Labs delivered yet again."
Please visit booth #1210 at H2O-XPO to view a product demonstration of neXt.
For neXt product inquiries, please contact info(at)blueearthlabs(dot)com or 1-800-259-4465
About Blue Earth Labs
Blue Earth Labs, a chemical research and development company, develops advanced cleaning and maintenance solutions to assist commercial facilities in providing safe, clean water. The Company's NSF 60 certified products are specifically engineered to extend the operational life and efficiency of any water infrastructure by removing organic and inorganic contaminants both online and off line. Founded in 2010, Blue Earth Labs combines chemistry with commitment, innovation and expertise to deliver simple, cost-effective water infrastructure solutions to customers across the globe. Visit BlueEarthLabs.com for more information.