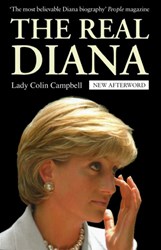 'The most believable Diana biography' People Magazine
London (PRWEB UK) 3 October 2013
The Real Diana by Lady Colin Campbell
Format: Kindle Edition Ebook
File Size: 714 KB
Print Length: 340 pages
Page Numbers Source ISBN: 1905147066
Publisher: Arcadia Books/Dynasty Press; 2nd edition
The Real Diana is based on 35 interviews with Princess Diana conducted by Lady Colin Campbell - and in this just released Kindle edition ebook Lady Colin has both named her Royal sources and also added a brand new Afterword.
It was royal insider Lady Colin, not Andrew Morton, who was the author who first put the jaw-dropping facts about Princess Diana's life in print. She was the first author to predict the Waleses' separation and divorce and The Real Diana contains startling revelations about Diana which Lady Colin has unearthed since Diana's tragic death, including new theories on her death itself.
This ebook was newly updated in September 2013 with an Afterword that reveals Lady Colin's insights into the inquest on Diana's death, the years that have followed, and the birth of Prince George. She continues to respond to the fact that 'Diana said that she wanted me to write the truth about her life "because I feel as if the whole fairy tale is crushing whatever's left of the real me...If you'd just write about the real Diana, it would make all the difference."'
In her Afterword Lady Colin is sympathetic to the fact that, "Diana long ago ceased to be just a human being, even while she was alive. One of the traps of fame is that there are two distinct entities – the real individual and the fictive being who shares a name, face, and body with the real person.
"Diana the mythical princess who had been trapped in the fairy tale and had tried so hard to escape from it, and had succeeded in doing so, was only a part of the story. The really interesting part of it was Diana the woman."
She believes that "The recently premiered film Diana tried to present a sympathetic and humane Diana who was seeking love. Unfortunately, it failed to engage the sympathy of those who knew Diana for two very good reasons. Firstly, it did not capture the essence of the person Diana was, and secondly it proposed that Khan was the one true love of Diana's life, and that her relationship with Dodi was a big act to make the heart surgeon jealous. This could not have been further from the truth."
In the Afterword Lady Colin interestingly gives detailed and serious reconsideration to both the Paget Report and Lord Justice Scott Baker's Inquest and, as she writes, "It is now sixteen years since that tragic accident in the Pont de l'Alma tunnel. In that duration, life has moved on and time itself has given us sufficient perspective as to be able to give reasonable consideration not only to Diana's life but also to her legacy."
The Real Diana Kindle ebook is co-published by Arcadia Books and Dynasty Press and is available now for download from Amazon.co.uk at £4.79.
About Dynasty Press:
Dynasty Press, founded in 2008, is a boutique London Publishing House specialising in works connected to royalty, dynasties and people of influence. Committed to the freedom of the press to allow authentic voices and important stories to be made public, Dynasty Press boldly publishes titles which reveal and analyse the lives of figures who are placed in the upper echelons of international society. Recent titles include the New York Times best-seller The Untold Life of Queen Elizabeth the Queen Mother (jointly with St. Martin's Press) by Lady Colin Campbell, American Alice by Richard Freeborn, Dangerous Score by Mike Bearcroft to benefit The Hillsborough Family Support Group, and Terry Cooper's Death by Dior. The Lilly and The Egg, an e-book of just over 1,000 pages in which the reason for the murder of Italian film director Pier Paolo Pasolini is made plain for the first time was recently released on Amazon Kindle.
For more information please visit http://www.dynastypress.co.uk.