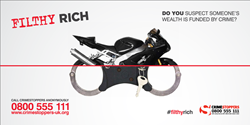 "Luxury items and extravagant behaviour are sometimes funded by criminal activity",
London, United Kingdom (PRWEB UK) 2 October 2013
Designed by Focus Integrated on behalf of Crimestoppers, the campaign aims to highlight criminals' lavish lifestyles and evoke a sense of injustice, prompting people to get in touch - anonymously to independent crime-fighting charity Crimestoppers – with information about those who profit from crime.
Under the Proceeds of Crime Act 2002, police are allowed to pursue criminals through the courts to confiscate their possessions and illegal earnings. Anyone who profits from crime runs the risk of losing the financial and lifestyle gains that they have enjoyed.
"The purpose of Crimestoppers' campaign is not only to help the police recover goods and prevent them from being used to fund further criminal behaviour," says Regan "but also to remove negative role models from society."
The campaign, which is due to run at the end of September and beginning of October, comprises extensive poster and radio advertising, together with a social media campaign using YouTube, Facebook and Twitter.
"You can look out for the 'Filthy Rich' posters on London billboards and bus shelters, as well as on the London Underground and buses," adds Regan. "You can also follow us on Twitter using the hashtag #filthyrich or find out more about the campaign at http://www.crimestoppers-uk.org/filthyrich."
Crimestoppers are hoping that the campaign will provide the Metropolitan Police with the information they need to convict criminals, retrieve their assets under the Proceeds of Crime Act 2002, disrupt further criminal activity and make communities safer.
Creative execution of the campaign
Radio advert: audioboo.fm/boos/1616400-filthy-rich-radio-ad
Online video content: vimeo.com/user12628823
For further information on this press release, please call Ben Tucker at Focus Advertising on 01376 574800 or email ben(at)focusintegrated(dot)co(dot)uk.
Focus Integrated Marketing Communications
Erskine House
Threshelfords Business Park
Inworth Road
Feering CO5 9SE
Notes for Editors: Focus
Focus Integrated is a multi-disciplined integrated marketing agency, which employs 35 people.
Established in 1997, Focus Integrated is based in Essex and serves clients across the whole of the UK.
Notes to Editors: Crimestoppers

Crimestoppers is an independent charity which helps the police to solve crimes, making communities safer. It does this by operating the 24/7 telephone number 0800 555 111 which people can ring to pass on information about crimes anonymously. They can also use our Anonymous Online Form via our website http://www.crimestoppers-uk.org which can also be accessed on all mobile devices including iPads and smartphones.
Around 20 people are arrested and charged every day as a result of information given to Crimestoppers.
Since Crimestoppers began in 1988, it has received over a million actionable calls, resulting in over 122,000 arrests and charges. Over £126 million worth of goods has been recovered and over £299 million worth of drugs has been seized.
In 2005, Crimestoppers launched the UK's Most Wanted on its website which allows the public to view images of criminals and pass on vital information about their whereabouts. It has been highly successful with over 2,300 arrests to date.
An individual is charged for murder every ten days thanks to information passed to Crimestoppers
Crimestoppers UK was founded by Lord Ashcroft KCMG PC, Chairman of Trustees. In 1988, he launched Crimestoppers in the Metropolitan Police area. Crimestoppers' 'call to action' is built on a three-way partnership between the business community, the police and the media.