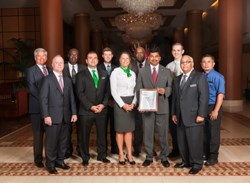 Implementing ISO 50001 has been valuable, including increasing employee awareness of energy issues and the benefit of behavioral changes to support energy management and helping the hotel develop achievable energy performance targets. - Raj Srinivasan
Philadelphia / Washington, D.C. / Stuttgart (PRWEB) October 01, 2013
DEKRA Certification, Inc. (DCI) has completed certification audit of the Energy Management System (EnMS) of JW Marriott Washington DC. Based on the audit results, DCI presented an ANAB accredited ISO 50001 certificate to the hotel on September 25, 2013. The audit conducted by DEKRA, verifies that JW Marriott Washington DC has implemented an Energy Management System, and that the normalized energy performance at the 1331 Pennsylvania Ave, NW location improved over the baseline.
"Implementing ISO 50001 has been valuable, including increasing employee awareness of energy issues and the benefit of behavioral changes to support energy management and helping the hotel develop achievable energy performance targets," said Raj Srinivasan, director of of engineering, JW Marriott Washington, DC.
The purpose of this particular certification is to provide an energy management framework for any organization utilizing energy resources in order to operate effectively. A process of improvement becomes part of the everyday culture.
DEKRA is a leader worldwide on ISO 50001 and SEP (Superior Energy Performance) certification program. These energy management standards are intended to result in sustainable improved energy performance. Our experience in value-added management system certification has helped us to position our company in this leadership position. DEKRA holds accreditation to ANSI, ANAB, and DAkks for Energy Management System certification.
"This allows us to continue to offer our customers future-proof certifications in the area of energy management and sustainability, thus giving them a decisive competitive advantage," said Mr. Lothar Weihofen, CEO of DEKRA Certification GmbH.
About DEKRA Certification, Inc. (DCI):
DCI is a U.S. based accredited certification body for international management systems. The company is part of the global footprint of DEKRA Certification Group headquartered in Stuttgart, Germany. DCI is a multi-accredited certification body covering all management system business line activities for North America, with a global service capacity. DEKRA offers services for ISO 9001 (quality), ISO 14001 (environment), AS 9100c (aviation, space and defense), TL 9000 (telecommunications), SEP (Superior Energy Performance) and ISO 50001 (energy management) along with auditing services to many other management standards, including customized supplier assessments. DCI works with companies to utilize standards for greater productivity, reduced waste, larger profits, an enhanced customer experience and the growth of a continuous improvement culture. DEKRA's experienced professionals have extensive knowledge of management system standards and a proven track record of success to help achieve the goals of any organization.
About DEKRA:
DEKRA SE is one of the world's leading expert organisations. The company currently operates in more than 50 countries. Over 29,000 employees are committed to ensuring long-term safety, quality and environmental protection. The DEKRA Business Units "Automotive", "Industrial" and "Personnel" provide professional and innovative services in the fields of vehicle inspections, expert appraisals, international claims management, consulting, industrial testing, product testing, certification, environmental protection, qualification, temporary work as well as out- and new placement. In 2012 DEKRA generated sales totalling close to 3.0 billion dollars.
All testing, inspection, auditing and certification activities of the former KEMA Quality are an integral part of the DEKRA Certification Group. This also applies to all related safety, conformity and certification marks, such as KEMA-KEUR.
About JW Marriott Washington, DC
The JW Marriott Washington, DC, the first JW Marriott branded property, opened in 1984 as a tribute to J. Willard Marriott, founder of Marriott Corporation, predecessor to Marriot International, Inc. One of the country's premiere meeting destinations, the property features over 37,000 square feet of superior banquet and meeting space, including the 14,000 square foot Grand Ballroom, 29 meetings rooms and a 7,000 square foot terrace on the 12th floor, overlooking the nation capital and its historic monuments and landmarks. For more information or to make reservations, contact your travel professional, call the hotel directly at (202) 393-2000.