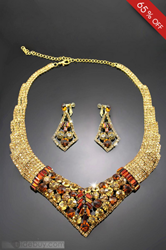 HK, China (PRWEB) October 06, 2013
Tidebuy.com, the top Chinese online store on women's fashion items, offers extremely low prices on its sparkling fashion jewelry and accessories. Its customers who buy jewelry or accessories will be able to enjoy great discounts, up to 85% off. It is surely a good news for those women who want to own some sparkling and shining jewelry pieces.
The jewelry and accessories offered by Tidebuy are usually of high quality and fashionable designs. Generally, they are made of fine materials, such as rose gold, silver and rhinestones. Their designs are always trendy and novel, which allows them to draw attention easily.
In the reviews section, Tracy, an American girl, writes, "I'm a frequent visitor of the site. I like sparkling things. Now, I own lots of shining pieces from this site. I like sharing my little shining stuff with my friends. Every time when I worn something sparkling, they will admires me. When I told them how much I pay for it, they will be surprised by the screaming low cost of my sparkling fashion things. Oh, I just love such moment."
In addition to the sparkling fashion jewelry and accessories, Tidebuy also sells women's clothing, kids' outfits, wigs and other fashion items. It has businesses in more than 230 countries and its products are shipped 24 hours per day to different regions of the world. It has three subsidiaries in different cities of China. Its garment factory in Suzhou is manufacturing thousands of clothes a day, and the workers in its quality control department will check every piece of clothing carefully to make sure it is flawless when it goes into the market. The phones at the service center of its subsidiary in Xi'an are ringing continually and all the sales persons here are busy dealing with the order or inquiries of the customers. All workers of Tidebuy are busy doing their job, but all seems to be in order.
About Tidebuy
Tidebuy, an e-commerce company set up in 2010 in Beijing by a group of talented and passionate youngsters, has grown up to be a successful company. As a young company, it has a long way to go, but its perspicacious CEO, experienced managers and hard-working employees have no fear. They are striding forward to the future bravely and confidently.