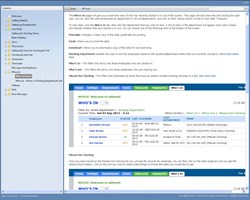 The uAttend HR management systems offer a variety of clocking in options ranging from RIFD to advanced biometric finger and face enabled Time Attendance System UK that is able to authenticate employee identity by their unique physiological features.
(PRWEB UK) 2 October 2013
Somerset, England (Sep 2013)–Access-to-Time Ltd, one of the top employee time management solution providers and resellers of uAttend Time Clocks UK, announces the launch of the revamped help pages on its website in order to provide improved user experience and enhanced customer support to its new as well as existing, extensive clientele.
Access-to-Time Ltd is a key provider of workforce management solutions in the UK including uAttend. Although the uAttend brand has only been on the scene for three years, it has already established a name for itself and carved a niche thanks to the feature-rich solutions it is able to offer at very competitive prices. Highly innovative and resourceful the uAttend timekeeping systems are especially successful with small and medium sized businesses that are looking for systems that are loaded with features but lighter on the pocket. There are also larger companies with thousands of employees who use the system daily, realising that the cloud solution brings massive advantages.
The uAttend HR management system offer a variety of clocking in options ranging from RIFD to advanced biometric finger and face enabled Time Attendance System UK that is able to authenticate employee identity by their unique physiological features. In addition, the system also has solutions for a mobile workforce such as land line clocking as well as GPS based clocking in from their smart phones. The uAttend time and attendance solutions are delivered by cloud computing which also enables real time recording of data as well as access to that data in real time.
In a very short period, Access-to-Time Ltd has acquired a significant clientele. In addition to the unique solutions that it provides, it places great emphasis on providing quality customer service. With the launch of completed revamped help section on the uAttend website, Access-to-Time Ltd is confident its customers are going to get all the help they need in a fast and efficient manner. Announcing the launch of the new Help page, Alastair Slade, the CEO of Access-To-Time Ltd said, "The new help system has been created from the ground up to be easy to use and extremely informative. The search facility alone saves users even having to look at the easy-to-understand menu tree. The Getting Started section helps users do exactly that by walking them quickly and easily through getting going with a new system. Even though this is a significant move forward, we mustn't forget that the lifetime warranty and support that come with uAttend includes being able to email in to our support team directly from within your account, as well as being able to actually call in and talk to a human being!"
The newly-enhanced Help page consists of more than 12 categories that encompass every aspect of how uAttend systems function, how to set up the systems, and how to manage the solution providing comprehensive assistance for new and existing users. Whether it is setting up various departments or defining user roles, creating summaries or accessing time cards, there is sufficient information provided to enable even the minimally IT savvy customers to find answers to their questions quickly and easily.
Check out the new help pages here: help.uattend.co.uk/uattend.
The uAttend Time Clocks UK is a joint venture between Processing Point, Inc. and Access-to-Time Ltd UK which is the fastest growing workforce management solutions provider in UK with more than a decade of experience in providing user-friendly and highly affordable employee time and attendance solutions.
---
Notes to Editors:
Access-to-Time, based in Somerset, helps businesses and organisations to save time and money by efficiently managing their workforces' attendance using powerful Time and Attendance (T&A) systems. The company is working to change the way we do T&A.
Access-to-Time provides computerised T&A systems plus expert advice and reliable on-going support to employers from all types of businesses and organisations who are managing 5 to 500 plus employees. Its clients enjoy stress-free monitoring of working hours and absences, time-savings and reduced payroll costs, with savings of at least 2 per cent of payroll being demonstrated when a T&A system has been implemented.
For further information please contact:
Jacqui South way
Jacqueline Southway PR
Tel: 01454 201869 / 07747 804703
Alastair Slade
uAttend/Access-to-Time
Tel: 01761 410015 / 07714 898902