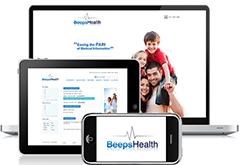 We are proud of this recent venture in modern health care system with this easily accessible health tracking application.
(PRWEB) October 02, 2013
Off-Road Studios has done it again this time by designing a fully integrated best health tracking application on its premium health care web application BeepsHealth. BeepsHealth, which is a multi-purpose Android and iOS application, helps users to keep track of their whole family in addition to themselves. Through this app, users can observe and keep track of the medicines they or their family are taking. In addition to this, BeepsHealth reminds users of all their important appointments and meetings with doctors with a 'beep', hence the name 'BeepsHealth'.
We are proud of this recent venture in modern health care applications with this easily accessible, friendly and efficient health care application. The app can be used and accessed by anyone and allows users to update their information, including tests, reports, height, weight, BMI, blood pressure, etc. in addition to finding a doctor near them and make appointments with them through the app, making it the best health tracking application.
Some of the great features this app provides is allowing users to keep a track of all the medicines they are taking, right down to the time and names, data entering of food consumption and body info which can be visualised in charts and graphs, uploading test results which can be viewed at any time, food analysis with regard to nutrition, and online interaction with doctors around the globe. In addition to this, users can also make use of one of BeepsHealth's best features, the 3D Body Chart, an interactive body map through which they can define and specify a particular area where they have had or want surgery.
The app is free of cost and available through the app store and can be downloaded on Android and iOS based gadgets, such as iPhone, iPad, iPods and android smartphones. All you have to do is register through a username and password and users can forget about ever missing an important appointment or forgetting to take their medicine and let BeepsHealth take care of all their health tracking needs.