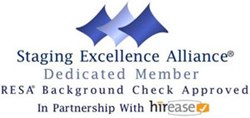 Having access to Top Stagers and Desgners in our industry for coaching is very exciting. We can now fill in the spaces needed to continue to build our business.
Los Angeles, CA (PRWEB) October 23, 2013
Kim Kapellusch, President and Founder, The Academy of Home Staging is thrilled to announce continued expansion of The Academy's offerings. Today she announces a Mentoring and Coaching program for Home Stagers and Re-designers to help them continue to expand their knowledge of the business and to add additional services to their portfolio.
Three of the top Instructors from The Academy of Home Staging will be offering private Mentoring and Coaching sessions to Home Stagers and Designers. The number of sessions required will depend on the mentee – anywhere from one quick update session to several sessions to learn about a new service that they would like to add to their portfolio.
Mentoring will be by one on one phone call – so location will not be an issue. Home stagers and designers will be able to choose from Kim Kapellusch, Mary Ellen Fortier or Michelle Lynne as their mentor. Each of these mentors has years of experience in Home Staging, design and in teaching Home Staging Certification Classes. Mentee's will all have individual needs and wants that they will want to cover during their sessions. Each of these instructors will be able to help mentees with everything from business start-up, business organization, tips on how to do all forms of staging, advanced marketing and networking tips to grow their business and much more.
In addition they have specialized areas of business offerings.
Kim specializes in working with Investors and building your own inventory.
Mary Ellen specializes in Rental Staging, Working with seniors and Marketing your business.
Michelle specializes in creating an additional stream of income through design, growing your business through hiring, and inventory control.
Kim Kapellusch, Founder of The Academy of Home Staging and Style My Space, both located in the Los Angeles area. Kim is a leader in the Home Staging industry, having had hundreds of Home Stagers takes her course in one of her 5 locations. Kim has over 20 years' experience in design fields including home staging, model home design, consulting for remodel projects and investment flips, set design, art direction and former real estate agent. As a Certified Home Stager, she specializes in improving the appeal of the home through the BUYERS perspective. Designing a home from this vantage point targets the largest pool of potential buyers thereby selling homes in the shortest amount of time for top dollar.
Mary Ellen Fortier, Founder and President of 'Decorative Interiors by Mary Ellen'' brings her knowledge of design and staging, leadership, business acumen and public speaking skills to her class rooms and shares these skills with her Mentee's. Mary Ellen is a natural mentor and enjoys working one on one with her students. She has been a volunteer mentor in business and for women in various situations for the past 20+ years. For this reason it was a natural addition to her business to add Mentoring for Home Stagers.
Michelle Lynne of 'by Michelle Lynne' leads one of the most successful Home Staging and Design businesses in the Dallas area. She stays very close to the community of professionals by keeping up to date and in great standing with important organizations that lead her field of business: Michelle is an Advanced Certified Home Stager and Redesign Consultant; Certified Home Staging and Redesign Trainer and a Member of the Real Estate Staging Association. Michelle Lynne currently oversees a staff of five stagers and a warehouse full of inventory. She enjoys sharing her business acumen, sense of humor and experience in the staging industry.
The Academy of Home Staging offers the most advanced and complete training for students, and provides a 30 day 'start your business' plan allowing students to quickly get into this exciting and rapidly growing field.
Interested stagers should call 1-800-574-5576 today to discuss this mentoring program along with which mentor is best suited for them. Stagers will then be followed up by the Mentor that has been selected for them.
ABOUT THE ACADEMY OF HOME STAGING: The Academy of Home Staging was founded by Kim Kapellusch in 2005 in the Los Angeles area, and has quickly become the Industries' premier Home Staging and Redesign Certification Training Program. Today The Academy operates in California; Dallas, TX; New York City, NY; Seattle, WA; Tampa Bay Area, FL; and Washington, DC. In addition to its leading classroom certification classes The Academy offers a full CD based course, ongoing education and one-on-one business counseling.
For more information call 1.800.574.5576 or visit http://www.TheAcademyOfHomeStaging.com.