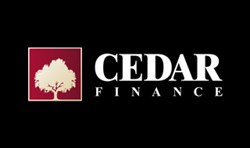 Apart from the positive feedback from our customers, we now have a word of approval from an established authority.
Nicosia, Cyprus (PRWEB) October 01, 2013
An exclusive circle of binary options brokerages which have been approved by the Cyprus Securities and Exchange Commission has recently welcomed a new member. Cedar Finance, a brand highly-valued among traders for their self-explanatory trading platform and an exceptionally varied asset list, has now been granted a CySEC license ultimately confirming the company's firm position on the market.
The prestigious CySEC license is given only to those with a proven record in the Forex market and a sufficiently good repute of a properly operating brokerage. Securing this license also means that the broker's activity is regulated in the countries of EU.
What does it mean for the clients?
Those who either trade or plan to trade with Cedar Finance can sleep soundly. CySEC license is a solid commendation which asserts that the company's services are safe to use and reliable. It also means that the users of a particular platform move to a higher level of security and transparency, since their accounts are now safeguarded by the Investor Compensation Fund in accordance with CySEC's regulations.
Cedar Finance, a binary option trading company based in Cyprus and powered by Tradologic, operating on a global scale since 2008, has long been applying for the CySEC license. A recent positive evaluation from the Cyprian Commision is a rewarding gesture and a great incentive for their team to work even harder to fully satisfy the needs of more than 300,000 traders who are now regular clients at Cedar Finance.
The CySEC regulation is good for the traders, the broker and the whole trading industry. The investors can be confident about the safety of their deposits and the overall fairness of the trading process. As for the broker and the industry – they benefit from the fact that such accolade sheds a new light on investing as a whole, which becomes a more recognizable and credible process in the minds of potential investors, especially in case of option trading which is relatively unknown.
What does it mean for the platform?
Mike Webber, the CEO at Cedar Finance, does not hide his pride and joy: "CySEC license is terrific news for both our team and all of our Clients who have entrusted to us their savings. We always new their money is safe with us. Now, they can take more than just our word for it."
The license also comes in handy as for addressing the customer needs, Mr Webber admits. "Our traders generally look for reliability, security and high levels of support, of which they inform us via phone calls and emails" – he adds. "Well, I am glad to say we have yet another reason to believe that what we are doing here is fully appreciated as, apart from the positive feedback from our customers, we now have a word of approval from an established authority."