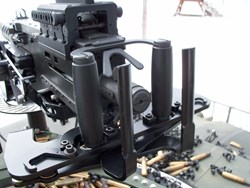 St. Croix Falls, Wisconsin (PRWEB) October 01, 2013
Nobles Worldwide, Inc., located in St. Croix Falls, WI, and the global leader in ammunition feed system design, development and manufacturing, is pleased to announce a Cooperative Research and Development Agreement (CRADA) for the development of a mechanically stabilized crew-served gun mount with the U.S. Army Research, Development, and Engineering Center, Picatinny Arsenal, NJ. The arrangement is aimed to integrate Nobles' Viper Lite™ universal crew served weapons mount, with existing Objective Gunner Protection Kit armor packages, in order to provide the U.S. and Allied forces with increased gun mounting options for the battlefield.
The Viper Lite is compatible with all crew served machine guns, currently in use in the US arsenal, and is a technologically advanced alternative to the MK93 mount. The CRADA will ensure the Viper Lite system is compatible with various OGPK configurations. "It was important for us to undertake this effort so we can provide a superior capability to the Warfighter without creating a logistical burden which often plagues universal mounts," said Vice Admiral John Morgan, USN (RET), and CEO of Nobles Worldwide. "Through working with ARDEC, we are able to ensure we can provide the Warfighter with the fully integrated, plug and play, solution he deserves." The CRADA was executed on 17 September, 2013, and is scheduled to be complete by early summer 2014.
About Viper Lite™
The Nobles Worldwide Viper Lite™ machine gun mounting system is the engineered solution to the current less effective MK93 mount that employs only archaic traverse and elevation (T&E) technology. Through working closely with US Special Operations Forces, Nobles identified the need of the vehicle mounted machine gunner to quickly stabilize the firing platform while engaging the enemy, with the ability to just as quickly release and slew to the next engagement, once again stabilizing for maximum effects on target. In response to this requirement, Nobles developed the patented Gun Mount Braking System™ (GMBS™) for the Viper gun mounts, bringing total control of the weapon literally to the gunner's finger tips. Currently deployed with US Special Forces in undisclosed locations around the globe, the Viper Lite™ provides the latest cutting edge technology in mechanical mounts offering life cycle cost savings, increased safety, enhanced capability, and a superior advantage over the enemy.
About Nobles Worldwide
Founded in 1948, Nobles Worldwide is the leading global provider of high-performance weapons systems solutions. Acquired by Inverness Graham Investments in 2011, Nobles is the largest supplier of ammunition feed systems to all branches of the U.S. military and its allies and is recognized globally for the superior durability of its products, cutting-edge designs, responsive customer service and rigorous quality assurance. Nobles offers ammunition chutes, magazines, gun mounts and weapon stations of lighter, stronger and more flexible materials for a variety of aircraft, helicopters, ships and ground vehicles. Nobles is based in St. Croix, WI, where it also has an operations center. For more information, please visit http://www.noblesworldwide.com.
About Inverness Graham Investments
Inverness Graham is an operationally focused, lower middle-market private equity firm headquartered in suburban Philadelphia. Inverness acquires high-growth, innovative manufacturing and service companies with enterprise values of less than $75 million. Senior executives of the Graham Group of industrial businesses founded the firm, which has over $250 million under management.