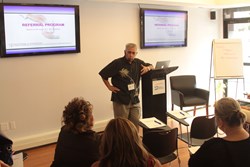 The new facility is very impressive and allowed our clients to receive training in a professional and comfortable atmosphere.
Astoria, NY (PRWEB) October 02, 2013
Hands-On Seminars teamed up with Survival Strategies to host Healthcare Facility owners and staff and train them on best practices to grow their business. 
The training covered topics such as increasing communication flow with the referral sources, gradual approach to referral sources to make direct contact, establishing interest so the referral source will meet with you, a system of statistics that measure the important products that contribute to the development of the relationship, front Desk System for maximum efficiency, and effective internal referrals system.
The course was presented by Mr. Javier Guerrero, "I felt honored to be able to conduct the training on the East Coast in such a suitable space, that I can only thank Hands-On Seminars and Survival Strategies for the opportunity. We are going to have a lot of fun and productive times in this new training facility." 
Guest speaker, and CEO of Survival Strategies, Inc., Craig Ferreira was pleased with the new event space, " The new seminar facility is very impressive and allowed our clients to receive training in a professional and comfortable atmosphere. It has been a long-term goal of mine to provide a space for our East Coast clients and I am so grateful to Dr. Kostopoulos, Dr. Rizopoulos and all the staff at Hands-On Seminars for helping us provide this. I look forward to years of collaboration in helping private practice owners succeed. " 
Hands-On Seminars, Inc 2014 course schedule will be released soon and Founders Dr. Dimitrios Kostopoulos and Dr. Kostas Rizopoulos are excited for what the new space will bring to students, "After training over 40,000 students around the world in various manual therapy approaches Hands-On Seminars provides now a new comfortable teaching environment that will enhance learning even more" proclaimed Dr. Kostopoulos.
"The collaboration with Survival Strategies along with new innovative educational avenues that Hands-On Seminars will introduce in the months to come, will help to educate healthcare providers around the world in an immediate and affordable manner" added Dr Rizopoulos.
To find out more about Hands-On Seminars or to attend a seminar, please visit ttp://www.handsonseminars.com or "Like" them on Facebook.
About Hands-On Seminars: 
Hands-on Seminars is the leading continuing education organization with a purpose to provide the best quality Manual Therapy seminars at an affordable cost. Our instructors' unique teaching methods and the use of multimedia presentations exceed industry standards while enhance knowledge assimilation and create a pleasant learning environment. While we schedule several seminars in the U.S. and around the world, we also give the ability even to smaller facilities to sponsor one of our courses. Our goal is to provide you with the tools you need to meet the daily challenges of providing quality patient care. For more information, please visit http://handsonseminars.com.